In a match dominated by bowlers, it was Lasith Malinga who ran away with the honours despite being at the losing end.
Defending a meagre score of 139, Malinga's sensational spell in the middle almost earned them the Lankans victory.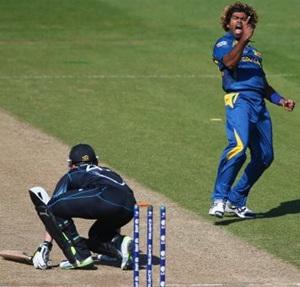 New Zealand were looking good at 48-1 in the eighth over, when Malinga dismissed Kane Williamson, who was clearly deceived by a low full toss.
The batsman went for the review, hoping that there would be a no-ball or the ball would be too high to be adjudged leg-before-wicket. Sadly, the replays showed that ball would have crashed on to middle stump.
Then Malinga broke an important partnership between the McCullum brothers that looked to be running away with the game.
He deceived Brendon McCullum with a slowish yorker that rattled his off-stump to give Sri Lanka hope. Then removed the other McCullum -- Nathan -- having him caught in front of the stumps.
In end, even though he couldn't see the side through, it was his spell in the middle that enabled Sri Lankans stage a fight in the low-scoring match.
Image: Lasith Malinga (right) of Sri Lanka celebrates bowling Brendon McCullum
Photograph: Michael Steele/Getty Images