Pakistan off-spinner Saeed Ajmal believes the national team has the ability to bounce back from its recent abysmal performance in the ICC Champions Trophy.
"Don't write us off. We know people are very disappointed with our performance in England but we will make amends by performing better in the coming series," Ajmal said.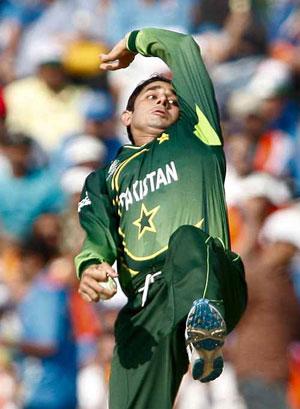 Pakistan couldn't win a single game in the tournament and worst the team failed to play its full quota of overs in all three completed matches, raising a big question mark over the batting order.
"The players were disheartened and upset with what happened. We let down our supporters in England. But the team's future is not bleak and we are capable of performing much better in the upcoming series," Ajmal said.
"It's not that the team didn't try. Every player gave his best to lift the side. The conditions were very difficult and unfortunately we just didn't click as a unit. On the other hand, the teams that adapted well achieved good results in the tournament. We will learn from our mistakes and bounce back quickly," he added.
Ajmal said their Tour to the West Indies would be tough as the hosts are in good form and have some quality players.
"West Indies have a good one day squad with some top players. I am looking forward to bowling to their quality players like Chris Gayle and Marlon Samuels," he said.