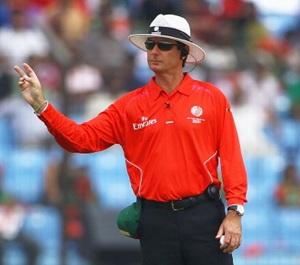 Sri Lanka's Kumar Dharmasena and Australia's Rod Tucker will be the on-field umpires in Sunday's ICC Champions Trophy final between India and England in Birmingham.
"England will face India at Edgbaston on 23 June. The on-field umpires appointed will be Kumar Dharmasena and Rod Tucker, with Bruce Oxenford and Aleem Dar third and fourth umpires, respectively.
"The match referee will be Ranjan Madugalle from the Emirates Elite Panel of ICC Match Referees," the ICC said.
In the semi-finals, India beat Sri Lanka by eight wickets while England got the better of South Africa by seven.
Image: Umpire Rod Tucker
Photograph: Getty Images