England one-day international coach Ashley Giles has dismissed former captain Bob Willis' allegations of ball tampering following the ICC Champions Trophy defeat to Sri Lanka which left England's hopes of qualification in the balance.
- Did England indulge in ball tampering?
Halfway through Sri Lanka's permitted 50 overs at the Oval on Thursday, match officials Aleem Dar and Billy Bowden changed one of the two new white balls, the Mirror reports.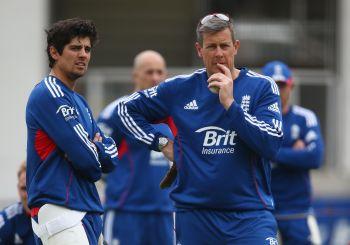 Fast bowling legend Willis had alleged in an incendiary claim that an English player had been illegally damaging the ball with his fingernails.
Ahead of the 'do-or-die' clash against New Zealand in Cardiff to book a semi-final spot in the tournament, Giles stuck with the official line given for the ball-change, saying that the ball was changed because it had gone out of shape, instead of the scratching insinuations brought about by Willis.
Giles further said that captain Alastair Cook had asked that question, which he has every right to do, of the umpires, and the ball was changed, adding that the abrasive nature and dryness of the squares were the reasons behind the ball's deterioration.
However, Giles admitted that the crucial game with New Zealand has been overshadowed by the negative headlines about the supposed ball-tampering.
Although reverse swing habitually arouses suspicion of foul play but England, who got the ball to duck and dive prodigiously in their opening victory over Australia, insists that there are no dark arts in operation, the report added.
Photograph: Paul Gilham/Getty Images