Bhuvneshwar Kumar was undoubtedly the top performer against Pakistan.
The young bowler vindicated his captain's decision to invite Pakistan to bat first by bowling a tight line in what was an uninterrupted eight-over spell.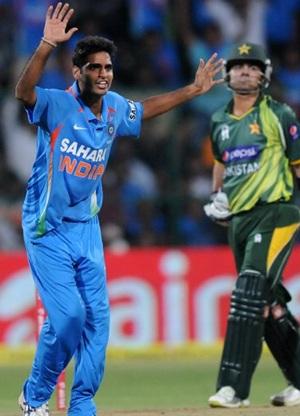 Bhuvneshwar, who got the ball to swing both ways, found the edge of Nasir Jamshed's (2) blade in his second over and Suresh Raina completed an easy catch at second slip.
The bowler reurned to account for Mohhamad Hafeez (27), caught brilliantly by MS Dhoni even as he tried to glide the ball to the third man.
Bhuvneshwar ended the match with impressive figures (8-2-19-2).
No points for guessing he was named the man-of-the-match for his efforts.
Image: Bhuvneshwar Kumar
Photograph: BCCI