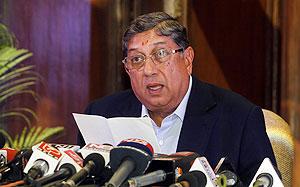 Unruffled by the Supreme Court order prohibiting him from taking charge even if he wins the election, under-pressure Board of Control for Cricket in India chief N Srinivasan declared he will stand for the Board's presidential polls at the Annual General Meeting in Chennai on Sunday.
Srinivasan said the court has not made a single observation which should stop him from seeking an extended one-year term as Board president at the end of his regular two-year tenure.
"Nobody has stopped me from contesting elections and attending the AGM. Before taking my comments, kindly go through the observations made by the honourable Supreme Court.
"It states clearly that I have not been stopped from attending the AGM and I am also going to contest the election; why shall I not contest the elections?" the 68-year-old Tamil Nadu strongman told PTI.
The apex court has not barred him from contesting the election but it has asked him not to take charge even if he wins it. Srinivasan, though, refused to say anything on that.
"I am not going to make any comment on that issue and you are free to write whatever you feel like, but write the truth," he said.
Hearing a plea by the Cricket Association of Bihar, which sought to stop Srinivasan from contesting, a Supreme Court bench, comprising Justices A K Patnaik and J S Kehar, said on Friday: "In case Srinivasan is elected president, he will not take charge until further orders."
The bench took strong exception to Srinivasan still holding charge in the BCCI despite his son-in-law, Chennai Super Kings former team principal Gurunath Meiyappan, being charge-sheeted in connection with the IPL spot-fixing case.
Image: N Srinivasan