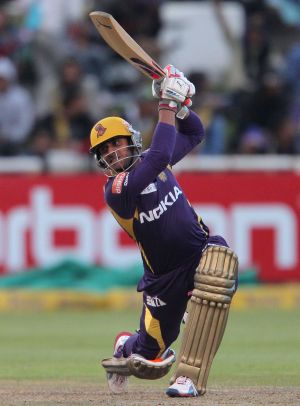 Disappointed at being ignored by by city franchise Kolkata Knight Riders (KKR) during the IPL players auctions, middle-order batsman Manoj Tiwary is eyeing to stage a comeback to the Indian cricket team through impressive performances in the upcoming Vijay Hazare Trophy.
The Hazare trophy begins on February 27.
Tiwary, who has been representing KKR since the last edition, though, has been bought by Delhi Daredevils for Rs 2.80 crore for this year's edition of the cash-rich T20 league.
"While IPL is a bigger platform, I am focusing more on the Hazare trophy since it starts earlier. I have been working hard to make a comeback and want to take things as they come," Tiwary said on the sidelines of an event here today.
"Like all sportspersons I too have a dream of playing for the country in the world cup, but at the moment I want to focus on the domestic circuit and hope to find a place in the national team for the England tour," he added. He last played an ODI for India in August 2012.
Tiwary was sad that he would not be able to play for his city in IPL 7.
"I have started off and learned all my cricketing tricks at the Eden Gardens and it is disappointing to say the least that I will not be representing the home side here.
"I am not only disappointed for myself, but also for the home crowd who will be missing the home-grown players. But nonetheless I am looking forward to play for the Delhi Daredevils."
Image: Manoj Tiwary
Photograph: Carl Fourie/Gallo Images/Getty Images