In the times of Irfan Pathan, Zaheer Khan and Laxmipathy Balaji, another name has sprung up in the Indian fast bowling department.
Punjab fast bowler Gagandeep Singh has caught the selectors' attention with consistent performances in domestic cricket in the last couple of years.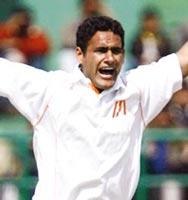 On Tuesday the fast bowler was named in the list of 36 probables for the tri-series in Sri Lanka later this month, which also involves the West Indies.
The selection may not come as a surprise for cricket fans following the youngster's fortunes in domestic cricket.
Gagandeep was named in the Indian One-Day International side for the three-match series in Bangladesh last December. But after the team was shocked in the second match, the chance of making his international debut faded after India elected to play their full side in the third.
However, the 23 year old did not let the disappointment affect him. Instead, as he told rediff.com, he took a lot of positives just by being in the Indian dressing room in the company of the senior players.
Such is the spirit of the lad, who got interested in cricket at age 14 when he started playing for his school S D P School in Ludhiana.
"My coach Charanjeet Singh, who has been with me since my school days, has been instrumental in my career," he said.
Gagandeep then featured in the Punjab under-16 and under-19 sides before playing in the inter-district tournament for Ludhiana.
The big break came in 2000, when he was selected for the Punjab senior team.
"It was a special moment for me. In my first match I took five wickets against Hyderabad, which featured top-class batsmen like V V S Laxman and Mohammad Azharuddin in their line-up. I ended up with 18 wickets in four Ranji Trophy matches."
The right-hander then followed that up with another great year in the Ranji Trophy, in the 2001-2002 season. He claimed 22 wickets in four matches, after which he was selected for North Zone, for the Duleep Trophy.
Gagandeep says he benefited a lot from a stint at the MRF Pace Academy in Chennai, under the watchful eyes of Australian legend Dennis Lillee.
"Lillee guided me a lot on technical points, about using my front arm. He also stressed on how fitness is important for a fast bowler. I learnt a lot about being fit which has helped me immensely."
The wickets continued to come, as he scalped 30 wickets in 2002-2003, and then had a haul of 36 in 2003-2004.
He feels the vital spell which helped him catch the selectors' eyes was when he snared 20 wickets in two matches for Punjab in the Ranji Trophy last season, after which he was named for the Bangladesh ODIs.
"I took eight wickets against Baroda and 12 against Assam, which helped me find a place in the Indian ODI team.
"The outswinger is my main weapon," he replies, when questioned how he took most of his wickets.
He says he learnt a lot from then India coach John Wright during his time with the team in Bangladesh.
"Wright taught me the importance of using variation. He told me not to bowl the same stuff, to read the batsman's mind and bowl accordingly.
"He advised me to try to restrict and frustrate a batsman, which will force him to try something and give his wicket away. He always stressed on 'don't over-try for wickets, just maintain a good line and length and wickets will come'."
Gagandeep was one of the key factors in Punjab finishing runners-up in the Ranji Trophy. His record speaks for itself: 39 wickets in 6 Ranji Trophy matches at 17.61, with 4 five-wicket hauls and one ten-wicket haul.
He also had a productive time in the Ranji Trophy one-day tournament, in which he scalped nine wickets in four matches at an average of 9.55, with an outstanding economy rate of 2.52.
Gagandeep believes new Punjab coach Intikhab Alam, the former Pakistan captain, made a difference to the state side.
"He is a very good coach. Team confidence has really risen under him. He ensures the motivational level of the team is very high at all times. And the results are there to see."
He said despite being from Pakistan, 'Inty' did not have trouble communicating with the team.
"He speaks in Punjabi," says Gagandeep, "so language was never a problem. He mixed with the team very well, which proved to be so crucial."
The fast bowler now hopes to impress new coach Greg Chappell at next week's conditioning camp in Bangalore and win a berth for the Sri Lanka series.
With the regular fast bowlers fading away in the latter part of last season, Gagandeep might well get a chance to prove his worth.
Else, as he humbly concedes, he "will not mind waiting for the right opportunity at the right time".
After all, he believes in the saying: 'There is a right time for everything.'
Photograph: Prakash Singh/AFP/Getty Images