Graeme Swann took six wickets and 10 in the match as England dodged the rain clouds hovering over Headingley to wrap-up a 247-run second Test victory over New Zealand on Tuesday and secure a 2-0 series triumph.
New Zealand lost their last four men in murky conditions on the final day to be bowled out for 220 after surprisingly being asked to bat last in a game that appeared to be at England's mercy much earlier before captain Alastair Cook declined to enforce the follow-on.
Cook batted again before declaring and setting New Zealand an improbable 468 to win, giving his bowlers the best part of five sessions to take 10 wickets.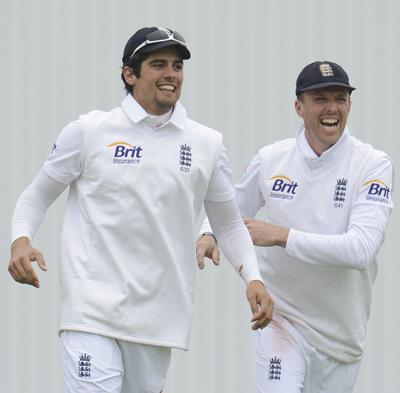 "Tactically, we wanted some more wear into that pitch and you saw quite a few balls misbehaved, the rough getting deeper and deeper, and I think that proved pretty good tactics," Cook told BBC radio.
"If you're nit-picking, with that last 45 minutes yesterday, you could have said we could have pushed on but obviously we were pretty happy with the position we got ourselves in."
England's gameplan was nearly scuppered, though, by persistent light rain and delays on Tuesday.
Off-spinner Swann, who underwent elbow surgery in March, made the most of the breaks in the clouds to take six for 90 in the second innings and return match figures of 10-132, a huge boost for England ahead of the Ashes series against Australia starting in July.
Just 48 minutes of play were possible in the morning session but any hopes that New Zealand had of holding off England while hoping for heavier rain to return were quickly lost when captain Brendon McCullum departed for one.
McCullum skewed a low full toss from Stuart Broad back to the bowler who took a sharp low catch.
Tim Southee, dropped when Jonathan Trott failed to grasp a sharp one-handed chance at first slip off Swann, fell to the same combination in the spinner's next over.
Southee clubbed two sixes and four boundaries in his entertaining cameo before the drizzle returned to force an early lunch.
When play resumed, Ian Bell snaffled Doug Bracewell at silly point to give Swann his sixth wicket and then James Anderson secured victory when Trent Boult was caught behind, taking the paceman on to 307 wickets and level with Fred Trueman on England's all-time list.
"We knew the weather was about so we needed a couple of hours and the groundsman did a fantastic job," added Cook.
"It's great to win 2-0, they were two good performances," added Cook. "I think we played better in this game than we did at Lord's."
England won the first Test by 170 runs.
The two sides now play three one-day internationals with the first at Lord's on Friday.
Scorecard
England (1st innings): 354 (J.Root 104, J.Bairstow 64; T.Boult 5-57; second innings 287-5 dec (Cook 130, Trott 76)
New Zealand (1st innings): 174 (G.Swann 4-42)
England (2nd innings): 287-5 dec (A. Cook 130, Trott 76)
New Zealand (2nd innings):
P.Fulton c Bell b Broad 5
H.Rutherford c Root b Swann 42
K.Williamson lbw b Swann 3
R.Taylor b Swann 70
D.Brownlie c Bell b Finn 25
M.Guptill c Trott b Swann 3
B.McCullum c & b Broad 1
T.Southee c Trott b Swann 38
D.Bracewell c Bell b Swann 19
N.Wagner not out 0
T.Boult c Prior b Anderson 0
Extras: (b-2, lb-11, w-1) 14
Total: (all out, 76.3 overs) 220
Fall of wickets: 1-21, 2-40, 3-65, 4-144, 5-153, 6-154, 7-162, 8-218, 9-220
Bowling: Anderson 11.3-4-28-1, Broad 11-3-26-2, Finn 19-5-62-1 (1W), Swann 32-12-90-6, Root 3-2-1-0.
Result: England won by 247 runs
England win the series 2-0
Image: England's captain Alastair Cook (left) celebrates with teammate Graeme Swann after England win the second Test against New Zealand at Headingley.
Photograph : Philip Brown/Reuters