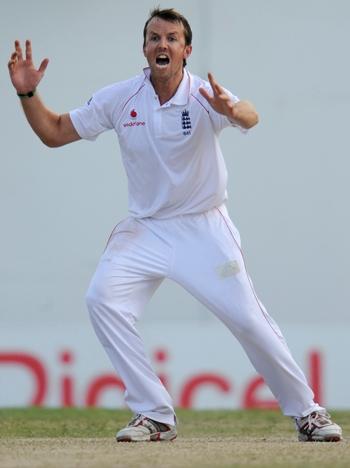 Off-spinner Graham Swann believes that he has finally established himself in England's cricket team after taking wickets against the Australians during the Ashes series and now against the South Africans in two back-to-back Tests.
Describing 2009 as an incredible year for himself, Swann wrote in an article for The Sun that: "I must be the happiest cricketer in the world right now. Almost everything has gone right."
I''ve established myself in the England team, taken the wicket that clinched the Ashes and now won back-to-back man-of-the-match awards in South Africa. I don''t know whether 2010 will be as good on the field -- I sure hope it is -- but it will be a special year for me because I am marrying my fiancée Sarah on January 29," he adds.
Swann is the first spin bowler in history to take 50 wickets for England in a calendar year.
"I couldn't believe that. I'm not going to lie to you -- it made me feel really special. There have been some great England spinners such as Jim Laker and Derek Underwood. The reason they didn''t get 50 wickets in a year is probably because they had to travel for three months on a boat to go on tour and did not play as many matches," said Swann.
He also said that realistically he did not think England can pull off a clean sweep against South Africa on their home soil, though thinking about it was not such a bad idea.
"Yes, of course, but realistically I know that is not possible. I'm just happy to contribute all I can. It feels great. I'm knackered, my finger is killing me and my toes are bleeding but we have won and I have taken nine wickets," Swann wrote.
He also praised captain Andrew Strauss for creating a happy environment within the squad.
"You're never looking over your shoulder and can always have a laugh with the captain. I think it's important to stand next to him at slip and be able to take the mickey. He gets grumpy if he drops a catch -- like yesterday -- but is smiling again five minutes later. I think it is probably the easiest thing to captain a team when everyone likes you -- and we all like Straussy," he said.