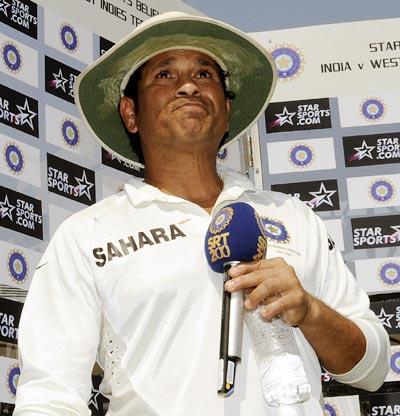 Apart from Kapil Dev, Sachin Tendulkar was the only thing Indian at the Laureus World Sports Awards in Kuala Lumpur on Wednesday.
The iconic cricketer made a blink–and-you-miss appearance in a video compiled by the event organisers to pay tribute to sporting legends from across the world.
A clipping of Tendulkar's unforgettable retirement speech found mention in the video, and though it was very brief, it was worth it for his fans.
The batting ace walked into international sunset in front of his home crowd at the Wankhede Stadium after the Test series against the West Indies last November.
- Digital photo mosaic of Tendulkar unveiled
Thanks to his staggering achievements in cricket, the Mumbai batsman won many accolades during a glittering 24-year career.
This was yet another one.
His heart-wrenching retirement speech will be etched forever in the minds of not only the fans but also those who are remotely connected with the gentleman's game.
The 55-year-old Dev, a legendary World-Cup winning all-rounder himself, is one of the members of Laureus Sport for Good Foundation.
Laureus Sport For Good Foundation, whose mission is to use sport as the means to combat some of the world's toughest social challenges faced by young people today and which organises the event annually, graced 2013's top performers such as Sebastian Vettel, American swimming sensation Missy Franklin and Russian pole vault star Yelena Isinbayeva to name a few.
The proceeds from the Laureus World Sports Awards directly benefit and underpin the work of the Laureus Sport for Good Foundation, which supports more than 140 community sports projects in 34 countries.
Image: Sachin Tendulkar
Photograph: BCCI