Veteran Australian all-rounder Lisa Sthalekar, who retired from international cricket after her team won a sixth World Cup title in Mumbai, on Monday, said there could not have been a better place to call it quits than India -- the country where she was born.
"I made my debut in England where my mother was born and I am ending my career in India where I was born and my father was born. It's got a nice symmetry to it, isn't it," Sthalekar said.
"I don't think I could have written it any better. To be part of a winning World Cup campaign, to take a couple of wickets and to take the catch at the end, was really special. That moment I will never forget," she added.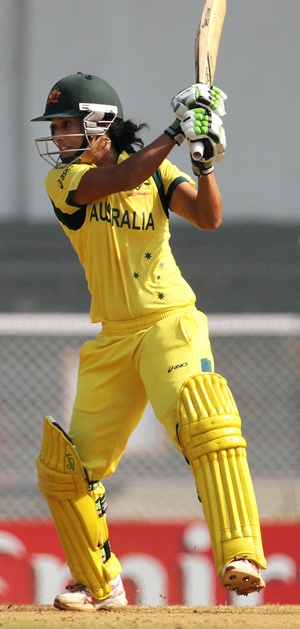 The 33-year-old claimed two for 20 and also took a catch in Australia's impressive 114-run win over the West Indies in the summit clash, on Sunday.
The Pune-born player said she had decided to call it quits before coming to the tournament but had guarded the information from her team-mates.
"I had already planned it before coming into this series. I hadn't told anyone. Obviously I told my family and some close friends and my friends actually came over to celebrate my last tour together, which was nice.
"It is always emotional. It's been a massive part of my life. Since I was 10, I have played cricket every summer so that's 20 odd years. Its going to be strange not playing and not training but I think I am going to enjoy the extra free time that I have," she said.
"I guess for me, I think the World Cup is very special and they don't come around very often. I think it was time to go in a sense that I had achieved that I wanted to. I was only going to stay in the game if I was motivated enough to put in the time an effort that is required to represent at this level. I think I have come to the end of that," she added.
Sthalekar said the elation of a sixth World Cup triumph is yet to sink in.
"It was what I wanted to do. I hoped that we would get to the final and raise the trophy and it's probably going to take next few days for it to really sink in."
Part of the 2005 World Cup winning team, Sthalekar said this unit was completely different from what it was back then.
Sthalekar made her international debut in 2001 and played eight Tests, 125 ODIs and 54 T20 International matches.
In her career spanning close to 12 years, she amassed 416 Test runs, 2728 ODI runs and 769 T20 runs and has two World Cups under her belt.
Sthalekar was also the first woman to score 1000 runs and take 100 wickets in ODIs.
Her bowling statistics are equally impressive, having claimed 23 wickets in Tests, 146 in ODIs and 60 in T20s.
Sthalekar is currently ranked No. 1 T20 all-rounder and bowler in the world and holds the No. 2 ranking for ODI all-rounders and bowlers.
Impressed with the talent she saw in the World Cup, Sthalekar said she is happy that she doesn't have to face West Indian power player Deandra Dottin ever again.
On her future plans, Sthalekar said she would love to be associated with women's cricket in some form and give something back to the game.
Photograph: ICC/Solaris Images