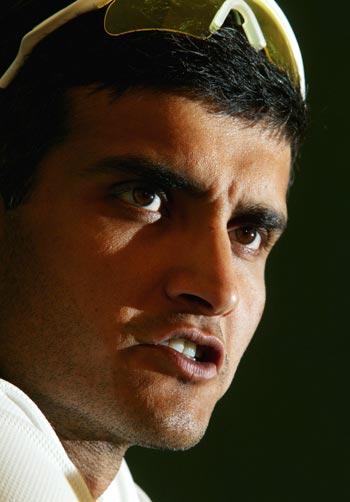 Former India skipper Sourav Ganguly was penalised on Wednesday for turning up late in Bengal's Ranji Trophy match against Saurashtra at Eden Gardens in Kolkata.
Ganguly joined his team more than an hour after the start of their match as he was receiving massage from the team masseur for a "back spasm" in the morning.
On day two of the match with Saurashtra resuming at their overnight score of 372 for three, Bengal began without the ace left-hander, who was substituted by Abhishek Jhunjhunwala when the play started in the morning.
With Ganguly nowhere to be seen, Bengal became the laughing stock for those watching the match as they were reduced to 10 players when pacer Ashok Dinda had to leave the field for one over during that period.
Umpires did not allow further substitution for Dinda and thus Bengal had to do with 10 players on the field.
Match Referee Suman Dutta of the Assam Cricket Association was not available for a comment but according to sources umpires Samir Bandekar and K Srinath "waited" for Ganguly for three overs before imposing a "no comfort rule" on the former India captain.
Ganguly joined at 10.10am but for his 70 minutes absence he was barred from bowling as a "penalty".
"He had developed a back spasm and was getting treated in the dressing room," Bengal captain Manoj Tiwary said.