Australian hopes of winning the last One-day against Sri Lanka in Hobart to level the series was dealt a major blow after captain Michael Clarke rolled his ankle at training on Tuesday during a simple fielding drill and was carried from the ground.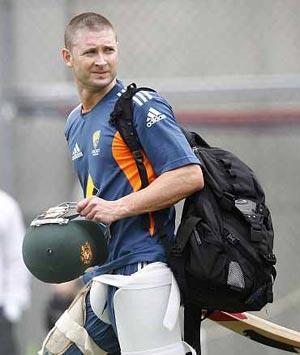 Clarke, who is undergoing scans, is now in doubt to play in the last ODI and George Bailey is expected to lead Australia in his absence, News.com.au reports.
Bailey spoke at the captain's pre-game press conference on Tuesday while Clarke was off having scans. Bailey added decision on Clarke's inclusion in the team would be take right before the toss, adding if the captain, who is in pain, is 100 percent then he would certainly play.
The Tasmanian expressed hope that Clarke, who is Australia's key batsmen, gets fit and fine for the Hobart ODI. With no other specialist batsmen in the 13-man squad, all-rounder Glenn Maxwell may have to come into the team to replace Clarke if the captain is unable to take his place, unless selectors decide to fly in another batsman, most likely Usman Khawaja.
Australia's top order batting has struggled in the past three 50-over games and can ill afford to lose their best batsman. With Sunday's game in Sydney abandoned due to a wet outfield, Australia can only tie the series 2-2 with Sri Lanka with a win in Hobart.