Former New Zealand captain Martin Crowe has been diagnosed with lymphoma, a type of cancer, it was reported on Monday.
Louise Henderson, a close family friend and manager to Crowe, said the family has a number of issues to confront over the next couple of weeks.
- If Ganguly can, so can I, says Martin Crowe
"The diagnosis is very new, the family is still in shock and obviously dealing with the understanding that life as they know it for the unforeseeable future is different," Henderson was quoted as saying by the New Zealand Herald.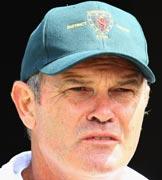 The 50-year-old played 77 Tests and 143 One-Day Internationals for New Zealand between 1982 and 1995 after making his debut at the age of 19.
Crowe was part of the inaugural Indian Premier League in 2008, serving as chief cricket officer of Royal Challengers Bangalore.
Last year, he returned to first-class cricket in a bid to score the 320 runs he needed to tally of 20,000, but it lasted just three balls, as, playing for Cornwall against Parnell in a club game, he pulled a thigh muscle and was out of action.
Photograph: Hannah Johnston/Getty Images