Mike Denness, the only Scotsman to captain England, has died of cancer at the age of 72, the BBC reported on Friday.
Denness, a stylish right-hander who led England in 19 of his 28 tests, dropped himself for the fourth test at Sydney on the 1974-75 tour of Australia after he was unable to cope with the pace and fury of quick bowlers Dennis Lillee and Jeff Thomson.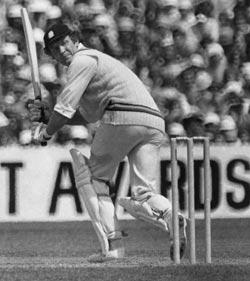 He scored 188 in the final match at Melbourne but Thomson was absent through injury and Lillee bowled only six overs before breaking down.
Both bowlers were back in action in the first test of the 1975 series, which Australia won by an innings on a rain-affected pitch, and Denness did not represent England again.
After retiring, Denness became a match referee but his decision to sanction six Indian players, including Sachin Tendulkar, during a test against South Africa in Port Elizabeth in 2001-02 sparked a row that led to both teams barring him from officiating in the next match.
Photograph: Keystone/Hulton Archive/Getty Images