England batsman Kevin Pietersen may consider quitting Test cricket after this year's back-to-back Ashes series against Australia, his former team mate Andrew Flintoff said on Thursday.
Pietersen, 32, has been ruled out of next month's two-match Test series at home to New Zealand because of a knee injury he sustained during fielding practice in the away series against the same side last month.
"I wouldn't read too much into his not playing New Zealand, Kevin will be ready (for the Ashes)," retired all-rounder Flintoff told Sky Sports News.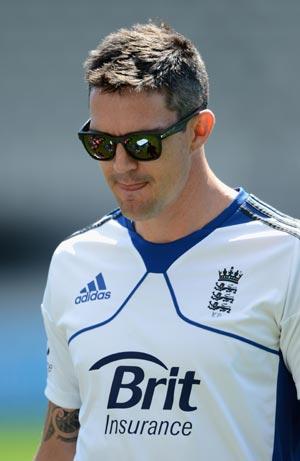 "There are 10 Tests against Australia in the next few months, I expect England to win and expect Kevin to be part of that.
"But I would be quite interested to see if Kevin tries to play Test cricket after that."
Last year, Pietersen committed to playing for England in all three forms of the game until at least 2015 after making peace with the England and Wales Cricket Board in a row over "provocative" text messages that led to him being dropped.
The former England captain said he would play "as long as my body allows".
England and Australia are playing back-to-back Ashes series this year to move the series out of its position directly ahead of the World Cup in the international cricket calendar.
"We'll see what happens after that, if he is lured away to play IPL (Indian Premier League) and Twenty20 cricket around the world," Flintoff said.
"I've got a sneaking suspicion he'll be looking at those 10 Tests and then consider his future."
Pietersen has played 94 Tests since making his debut against Australia in 2005, scoring 7499 runs at an average of 49.01. He has hit 22 Test hundreds.
Photograph: Gareth Copley/Getty Images