His promising career cut short due to injuries, former England skipper Andrew Flintoff on Monday said he had no qualms of getting involved in the Indian Premier League in capacities other than a cricketer.
"I actually don't mind playing in it. But due to injury, I can't. I never actually thought about it (getting involved in other capacities). But now you have mentioned it, why not? The IPL is a spectacle you watch on TV. It's the best domestic competition in the world. You play in front of screen before hundred-thousand people," he said in Mumbai.
"When I played for Chennai in South Africa, I wanted to play for Chennai in every opportunity I got to do that. But I haven't given a thought to that yet. I have just retired. It's just getting stuck a little bit," he added.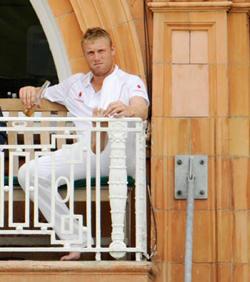 The 33-year-old Flintoff said the feeling that he had retired from the game was still to sink in and he would have "desperately" loved to continue in the game if not for injuries.
"I retired recently. About two-three weeks ago. I retired from Test cricket last year. I was expected to play in One-Day Internationals, T20s for Lancashire, play for Chennai. It did not quite happen like that. The past six weeks have been strange. I have been in America doing a reality series. I have my mind taken off a little bit.
"On the realities that I'm no longer a cricketer and am not going to play for England again, not going to play for Lancashire again, I'm not someone who will say I don't miss cricket, I don't want to play again, I desperately do. I thought I could do for another 2-3 years. I'm thankful for the cricket I played but I would have loved to do that a little bit more," he said.