New Zealand all-rounder James Franklin has admitted that he has a 'mental block' against Indian spinners but they are hopeful of putting up a much better show in the coming days.
Asked whether New Zealand batsmen have a mental block, pat came the reply: "Possibly yes."
"But I can't answer for the group. I can only answer for myself. I don't think there was a massive amount of turn. Ashwin got a few balls to turn and bounce but that was the exception rather than norm," Franklin, who top scored with an unbeaten 43 admitted at the post-match media interaction.
"We discussed this morning before start of play on what we have to do. Unfortunately, we haven't been quite able to do as we are following on now. It's probably an area (batting against spinners) we can look to improve upon."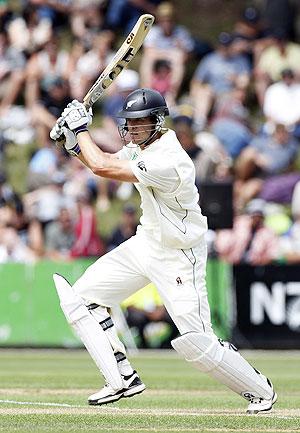 "Guys are working hard in the nets and it's up to the individuals to work out their own gameplans -- be it on defence or attack. We do need to keep progressing and keep working on our options against spin, but we've got a great opportunity to do that over the next couple of days," Franklin stated.
When asked whether it will be near-impossible to save this Test match unless weather plays dampener, Franklin replied, "I don't believe so. Hopefully, we shall rectify the few mistakes we made in the first innings and look to stay a lot longer at the crease."
The strategy of the Black Caps for the two remaining days will be to bat out time and according to the lanky all-rounder, it starts with Brendon McCullum at the top.
"It will start with Kane and Brendon tomorrow and probably, now it's about taking time out of the game and scoring runs along the way. It's a pretty simple formula: just occupy the crease."
"The top five are trying to implement what we have talked about and walk the talk a little bit. The guys have got an opportunity now to be disciplined. Who knows what can happen on Day 5; we can only focus on tomorrow," he said with an air of positivity.
On the Indian spinners, he said: "They are obviously good spinners and done well in India. They have a lot of fielders around the bat. We can't let that worry us too much and we have to just concentrate on our own games and just take it one ball at time."
Asked about his innings (43 not out), he said: "I just tried to keep my game plan as simple as possible and just waited for them to bowl to me. Obviously, there was always going to be some balls that were going to spin past me... I was just trying not to worry about them too much and focus on the balls coming to you each time."
Franklin was against the opinion that New Zealand openers batted very slowly in the second innings.
"I don't think our batsmen are inclined that way. We have been working on defensive options because we have to bat a long time now. We have to bat at least another day and half. It's about time at crease."
Franklin believes that his teammates are technically well equipped to take the attack back to the Indian camp.
"Our guys are capable enough technically to capitalise on any bad balls. It may look like we have had a slow start but it's also a reflection of how well the Indians have bowled."
He said their batsmen were starting out on a positive note in the second innings.
"I think we have started to do that well in the second innings and we have to continue doing that for a long time till day five."
Asked whether, he is a reluctant bowler these days, Franklin said his role has changed.
"My role as a bowler has changed. Obviously being the fourth seamer in this game, it's about blocking out one end and keeping it tight, when you have a strike bowler in the other.
"If I manage to pick up a wicket or two every innings, it's a bonus for the side. The emphasis here is on scoring runs because the wickets are more conducive to spin bowlers."
On playing against his IPL teammate Ojha, Franklin in a lighter vein said he would not look not to be dismissed by him so that the left-arm spinner did not have the bragging rights.
"I have seen a lot of Pragyan in the nets, but in a different format. He bowls a lot faster in T20. Over here, he is getting it to dip on us quite well. I don't want to get out to him as I don't want him to have the bragging rights (smiles). We shall see how we go in the second innings."
Franklin said that he has had a "heavily defensive" mindset while facing Ojha-Ashwin in the first innings but it has "worked well for him."
"If I get to bat in the second innings, I have an opportunity to break out of it in terms of attacking them a bit more. I will obviously stick to what has worked for me in the first innings. There might be little bit more turn on the back end of final days. I will get out there and assess the conditions," he explained.