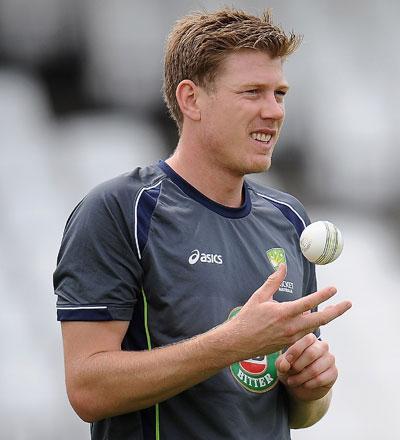 Australian fast bowler James Faulkner has said that he was picked in the Ashes squad not only because of his good all-round record at first-class level but also because of his aggressive temperament.
The inclusion of the young, unintimidated Faulkner as one of four quicks alongside spinner Nathan Lyon for the Australians' first game of the tour, against Somerset suggests that the selectors may have decided to pick all five bowlers for the five-Test series to get over a suggested lack of talent, the Sydney Morning Herald reports.
According to the report, the approach is an understandable effort in keeping with the aggressive ethos of the new coach Darren Lehmann given the recent mediocrity of the batting.
Stating that his ability to play with a competitive nature gives him the edge to perform well, the left-armer said that although he will continue to play with aggressiveness, he would make sure that he does not cross the line.
According to Faulkner, strutting about on the grounds despite not playing well makes a player look foolish, although he added that good players can puff their chest out and yet play good cricket.
Faulkner, who impressed the selectors with 89 and 46 in the Sheffield Shield final and stood out with 54 not out in his team's grim ICC Champions Trophy campaign, further said that he feels responsible in any game that he plays at home or as an all-rounder, adding that he remains constantly aware that there would be moments in the game where he would need to step up.
The bowling all-rounder could fill the No.7 position at Trent Bridge with Brad Haddin moving up to six, the report added.