Factbox on new Australia cricket coach Mickey Arthur, who was appointed to the role on Tuesday, becoming the first foreign coach to hold the position.
Born: May 17, 1968 in Johannesburg
FIRST-CLASS CAREER
* Opening batsman for Griqualand West, Orange Free State and South Africa A.
* Scored 6,557 runs in 110 matches at an average of 33.45 with 13 hundreds and 34 half-centuries before retiring in 2001.
COACHING CAREER
* Begins coaching Griquas before he takes over the Eastern Cape side in 2003.
* May 19, 2005 -- surprisingly named as South African coach at the age of 37, replacing interim coach Ray Jennings. Arthur had only retired from playing first class cricket four years previously.
* Given a baptism of fire in his first two Test series -- both against a rampant Australia -- losing five of the six matches in two three-Test series home and away.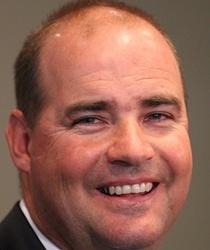 * Charged, then cleared by the International Cricket Council for comments he made about umpiring decisions on the tour of Australia, in which South Africa also failed to make the finals of the triangular one-day series.
* Loses both Tests in Sri Lanka in December 2006 before the Proteas withdraw from a triangular one-day series also involving India following a bombing that killed at least seven people near their Colombo hotel.
* Heavily criticised by local media following South Africa's loss to Australia in the semi-finals of the 2007 World Cup. The Proteas had entered the tournament as the top-ranked side in the world.
* Arthur forms a strong partnership with captain Graeme Smith and the pair turn the side into one of the world's best, beating England away in a Test series in 2008 and becoming the first side in 15 years to win a Test series in Australia in 2008/09.
* South Africa held the number one Test and one-day ranking during his tenure though the side loses the return series at home to Australia in early 2009 and then fails to beat England in another home series at the end of the year.
* January 27, 2010 -- resigns as South African coach just days after being dumped as a selector and amid differences with the board of Cricket South Africa. Local media reported at the time he had clashed with the board over the introduction of quotas for black players in the national team.
* Moves to Australia to take over as coach of Western Australia in April 2010.
* November 22, 2011 -- Appointed Australia's first foreign coach following a review of the national coaching and selection setup after Australia's disastrous Ashes series loss to England in 2010/11. Has said he will take out Australian citizenship.