Former Australian international cricketer Luke Ronchi is set to complete a notable double when he makes a debut for his native New Zealand in the first One-Day International against England at Lord's on Friday.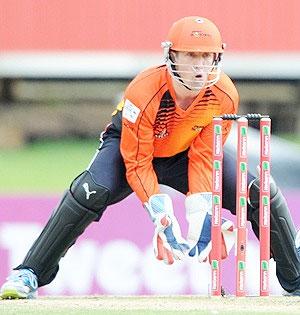 Ronchi, who had moved to Australia as a boy, played for Western Australia and represented Australia in four One-dayers and three Twenty20 internationals from 2008 to 2009, although he returned to re-qualify for New Zealand with his Australian chances limited by the likes of Brad Haddin, News.com.au reports.
According to the report, Ronchi will be opening the innings and wicketkeeping in an ODI role made famous by former Australia gloveman and dynamic batsman Adam Gilchrist.
Reflecting on his unusual path to New Zealand honours, Ronchi, who now plays provincial cricket for Wellington, said that it has been an interesting journey for him, adding that he thinks that no cricketer has ever tried such a journey before in their careers.
Stating that he looks up to Gilchrist, Ronchi said that he would feel gratified if he shows even a small amount of talent shown by Gilchrist, adding that he hoped that both of their games are quite similar.
Admitting to moments of anxiety, Ronchi said that his career had been far from one of smooth ascent, although he said that whatever he had done while getting to this point in his career has been satisfactory for him.
Photograph: Lee Warren/Gallo Images/Getty Images