Former captain Sunil Gavaskar wants India pace spearhead Zaheer Khan, who is going through a lean patch, to be put through "stringent tests" to ascertain his fitness in the run-up to the first of the four-match Test series against England.
"I think what they should be doing is because there is still 8 or 9 days to go before the Test match begins, they need to have stringent fitness test for him a couple of days before the game," Gavaskar said.
- Figure out India's squad for the first two England Tests
- New selectors put Team India openers on notice
"So 13th Nov, they should have a stringent fitness test for him where he bowls full speed and runs, so that selectors know he is 100 per cent fit. If he doesn't do that on the 13th Nov then they should be looking at someone else," he added.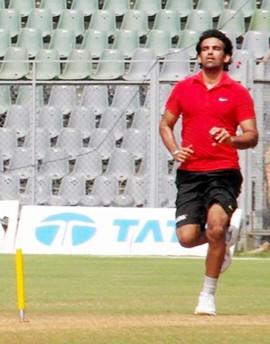 The new selection panel, headed by Sandeep Patil, on Monday, included Zaheer Khan in the 15-member squad for the first two Tests against England, starting November 15.
Zaheer Khan and Sachin Tendulkar played for Mumbai in the Ranji Trophy match against Railways to get back to form ahead of the four-match Test series.
Gavaskar said, "In case of proven performers, somebody with 400-plus wickets in Test, I don't think Ranji performance is important as long as selection committee believes that he has been bowling well, they can come back in the team.
"It's like a batsman, a proven batsman who has thousands of runs in Test cricket and if he doesn't do well in a Ranji Trophy game it doesn't mean he is not good enough for the national team," he told NDTV.
Gavaskar also said that he would have preferred a 12-member team instead of a 15-man squad as the Ranji Trophy is going on in full swing.
"I would actually prefer a 12-member squad. There is a Ranji match that is happening. Then I would have players playing Ranji Trophy matches. It is better to have practice than to sit in the dressing room and do nothing," he said.
"If selection committee decides this is going to be the formation of their 11, well may be keep a couple of players handy in case of any last minute illness on the morning of the match. I would think they should release at least two players to go back and play in Ranji trophy," he added.