Former batting great Rahul Dravid reignited the debate on split captaincy by suggesting that Mahendra Singh Dhoni should give up the leadership of India's T20 team.
'There's a lot of talk of split captaincy these days. It won't be a bad model for India to adopt, if only to keep Dhoni fresh as Test captain. Dhoni has got to recognise that he can't continue to captain and play all the time, because it is making him stale. The pressure of international cricket is huge -- it lends itself to a lot of fatigue -- and Dhoni has been in the job a long time now. Once the early charm and excitement of captaining a team wear off, you need to pace yourself.
'To start with, Dhoni could easily give up the India T20 and Chennai Super Kings captaincies. He has already achieved whatever there is to achieve in those roles. He needs to take breaks between captaining and keeping and playing,' wrote Dravid, in his column for ESPNCricinfo.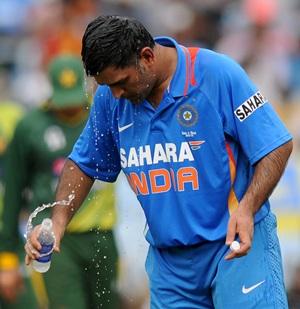 Former captain Sourav Ganguly also expressed similar sentiments last month after India's poor show against England in the Test series, which they lost 1-2.
'Every team in the world has gone with split captaincy. I am not saying the selectors should sack Dhoni and say 'you are out'. I have always said there is too much burden on him. I think we are losing M S Dhoni as a player,' Ganguly told Headlines Today. 
'Captaincy and your ability as a player are inter-linked. I think Dhoni is a much better one-day captain than he is a Test captain,' he added.
Dhoni is one of India's best captains, having guided the team to the 50-overs' World Cup triumph in 2011. But he also suffered the ignominy of being the only captain to experience successive 4-0 whitewashes, in England and Australia, which also made some former cricketers ask for his axing as captain.
South Africa recently adopted the split captaincy theory, with Graeme Smith retained to lead the Test side, and AB de Villiers taking over the ODI and T20 teams.
Australia have Michael Clarke captaining the Test and ODI teams, while George Bailey is a surprise choice as leader of the T20 team.
Similarly, England have Alastair Cook as captain of the Test and ODI teams, while Stuart Broad is skipper of the Twenty20 team.
Given India's busy schedule in 2013, it would be a wise move if India also adopts the split captaincy model to give Dhoni more time to relax and stay fresh for the Test matches.
At 31, he is fast approaching his sell-by date as captain and the selectors need to plan for his successor. The T20 format will be the ideal platform to groom the future skipper. Virat Kohli fits the bill perfectly and it would make sense if he is made captain of the T20 team, which comprises mostly young players.
Do you feel Dhoni should give up T20 captaincy? Should India go for split captaincy?