Former selection committee chairman Krishnamachari Srikkanth, who has been accused of shielding India skipper Mahendra Singh Dhoni despite poor performances, on Thursday, hit back, saying it is not right to rake up issues discussed in the panel's meetings.
- Dhoni's calm reply to Amarnath & Co
Former selector Mohinder Amarnath opened a pandora's box by stating that three selectors out of the five-member panel wanted Dhoni to be sacked, but they were overruled by Board of Control for Cricket in India president N Srinivasan.
- 'Srinivasan did not approve decision to replace Dhoni'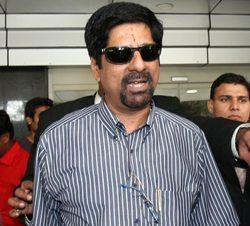 Srikkanth, who headed the panel which persisted with Dhoni as captain despite the whitewash in England, said that it is not appropriate to reveal details of committee meetings.
- Selectors are independent, insists BCCI
"I have always maintained that whatever happens in the selection committee meetings should remain within the four walls. It is not right for me or anyone to come out and say what exactly happened," Srikkanth said.
"It's just like a company's Board meetings, where lot of discussions happen about what to do and what not to do for the company's growth. But nobody comes out in public and tells what [has] happened," he said.
Refusing to give pointed reactions to the allegations made by Amarnath, Srikkanth said, "We discuss a lot of issues in the selection committee meetings, captaincy of Dhoni or X,Y,Z always comes up in the meetings.
"We always have detailed discussion on captaincy issues, ex-players, team combination. But, at the end of the day, it is always consensus," he added.
Srikkanth said focus should be diverted from controversies to ensure that the team, which is currently playing to save the series against England, is not distracted.
"We should just move on. Yes, Indian cricket is going through tough times and let's hope we do well in the Nagpur Test match and revive," he said.