England batsman Eoin Morgan says "pressure will always be there" on India captain Mahendra Singh Dhoni as he has to shoulder the burden of expectations of a billion people.
"I think he (Dhoni) is always going to be under pressure. He is the captain of India. He has 1.2 billion people on his shoulders. He is a captain of a massive nation. The pressure is always going to be there. Being back in his hometown might even give him some pride to play for," Morgan told mediapersons in Ranchi on Friday.
He said the pressure affects when you are not doing anything.
"I think the only way it affects you is when you are not actually doing something. Once you are out there and once you get into the flow, other things become easier.
- India look to carry momentum in third ODI
"It is certainly different to what we are used to playing back in England. Playing over here (in India), you get used to the surroundings that revolve around cricket. Cricket in this country is huge; it is indescribably big.
"Everything that surrounds it is fanatical. Again, at this stage, I am quite used to it. Even the trip from the airport to the hotel, seeing the streets lined like that just for a team turning up was amazing."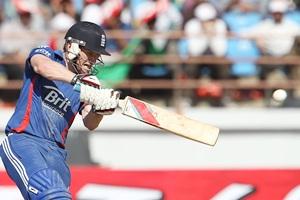 Asked whether Dhoni's injury will help England's cause, Morgan said, "You can't pray on anyone getting injured. If you get injured, then so be it; these things happen, life goes on."
The Englishmen might have struggled against the slow bowlers in Kochi, but Morgan said when they put pressure on India they perform.
Citing example of the Mumbai Test, Morgan said, "That pitch had both turn and bounce on offer. I think we underperformed in the last game and we have learnt some lessons that we need to go back to. The bottom line is when we do perform, we test India; as you could see in the first game, we came out as a better side."
On the series that is tied 1-1, Morgan said: "Yeah, we can do. I am a massive believer; the first game of the series can be the most important because it sets the tone for the rest of the series. The first blow a bit is like a boxing match. Every game is as big as the other. To go 2-1 up would be huge."
Morgan also backed his bowlers who leaked 108 runs in the last 10 overs in Kochi that proved to be difference between both the teams.
"They came under a lot of criticism for the last 10 overs given the fact that they were immaculate in the first 40 and set us up perfectly. I think it was just a matter of not executing our plans."
With England hosting the Champions Trophy in June, Morgan said they are making a steady progress.
"Our records suggest that. The only blip we have had since Alastair (Cook) took over was the last trip we had here and we learnt a lot of lessons from that."
Morgan said he is keeping his fingers crossed on his future in the upcoming IPL as he would decide after their team selection for the squad against New Zealand.
"I was fully centrally contracted last year. So, again, things won't change and it will be assessed about whether or not I am in the squad from New Zealand if I am going to play the start of the season. If I am on the fringes, obviously things will have to be thought about quite deeply and we will go from there.
"Yeah, I would like to be involved because I have learnt a lot from the IPL. But, again, more so, I want to be involved in particular this summer. It is two Ashes series and it's what everyone dreams of," he said.