In what has so far been a non-controversial Test match in Southampton, there was a whiff of the same on the second day.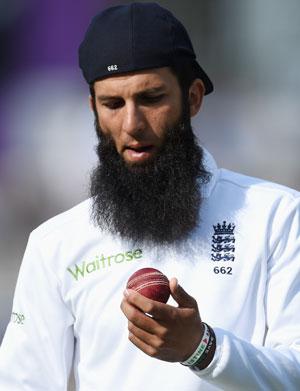 England player Moeen Ali was seen wearing a pair of 'Save Gaza' wristbands during the Indian innings. The 27-year-old all rounder also wore a 'Free Palestine' wrist band while batting.
The International Cricket Council (ICC) has confirmed they were investigating the incident as it is against the governing body's rules. ICC's code of conduct bans players from displaying 'messages which relate to political, religious or racial activities or causes.'
However, Moeen has found support from his own board.
The England and Wales Cricket Board (ECB) have defended Moeen's right to wear wristbands demonstrating his support and sympathy for the people of Gaza. England believes that Moeen's messages were humanitarian rather than political.
It is albeit still unclear if Moeen was given permission by the team management to wear the wristbands.
It is imperative here to mention that Israel launched an air offensive against Palestinian Hamas militants in Gaza three weeks ago. According to the United Nations estimates, more than thousand people have been killed during the fighting.
Moeen, 27, had also been pictured last week raising funds for the victims of the conflict in Gaza with the Ummah Welfare Trust in Small Heath in his native Birmingham.
There were have been incidents reported from the ongoing Commonwealth Games in Glasgow of athletes showing similar support for Palestine.
Image: England player Moeen Ali looks on whilst wearing his cap back to front and wristbands with 'save Gaza' and 'Free Palestine' during day two of the 3rd Investec Test at Ageas Bowl in Southampton
Photo: Stu Forster/Getty Images