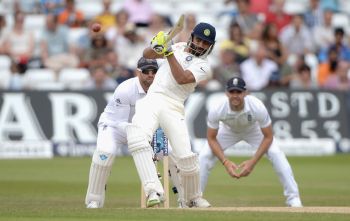 India's much talked-about delayed response to the alleged "pushing and abusing" of Ravindra Jadeja by James Anderson during the first Test in Nottingham was not exactly delayed as it has now come to light that the team complained within 24 hours of the incident.
According to a report in Cricinfo, the Indian team had complained to the ICC but formal charges were brought in only after ICC's attempts to sort out the matter came a cropper.
"The complaint by the Indians had suggested Level 3 charges against Anderson, which immediately put the matter outside the purview of match officials. The ICC was then required to study the situation in greater detail in order to ascertain whether the charges were valid," the website reported.
"Before formal charges were laid against Anderson, it is understood an ICC lawyer flew to England on Friday and spoke to both sides to see if the issue could be resolved. When that did not happen, the matter went through a legal process: on Sunday evening, the Indian team informed the England side that a Level 3 charge was being brought against Anderson and the formal "notice of charge" was issued on Tuesday," it added.
"The ICC's judicial commissioner, who will hold a hearing on the matter, can be appointed only after the ECB formally replies to this notice of charge," the website reported.
Anderson could be banned for two to four Tests if charges against him are proved. The altercation took place during the lunch break of the second day's play when the two players were walking back to the pavillion. It is not yet known what triggered the fracas.
Image: Ravindra Jadeja
Photograph: Gareth Copley/Getty Images