Former India captain Sunil Gavaskar feels England captain Alastair Cook has the ability to score 15,000 Test runs and 50 Test centuries before he hangs his boots.
"With this kind of form, and even if his form drops a little, 15,000 Test runs and 50 Test centuries are not beyond him," said the former India skipper.
Gavaskar lavished praise on the England skipper, who completed 7000 runs at the young age of 27, and with 23 tons has the highest number of centuries for his country.
"The only unpredictable part in one's career is injuries. If he can get away without any serious injuries, then these landmarks are not beyond him," the legendary opener told NDTV on Thursday.
What Gavaskar likes about Cook is the left-hander's ability to concentrate, and his keen eye on the ball.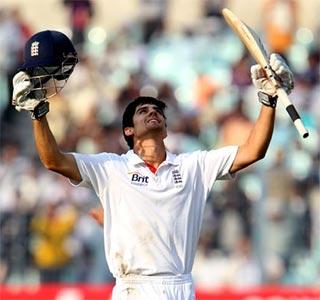 "Concentration is a God-given ability. What I like about Cook is that he is looking at the ball everytime, even when he is standing at the non-striker's end. That's one way to keep your concentration going," he explained.
"There are a lot of players who look everywhere. Like Ravi Bopara, who is very talented, but has a habit of looking here and there. The focus should always be on your job."
On a different note, he conceded that a total of 316 in the first innings is "not a par score" on the Eden rack.
"On a good pitch like this, 316 is not a par score. You need to score 450 and bat at least four-and-a-half or five sessions. But once you get out inside four sessions, it is always difficult to come back," he analysed.
"In the sub-continent, the second day is always best for batting and the Englishmen capitalised on it. They have already batted for two-and-half sessions and if they can bat another three, then it will be very difficult for India to make a comeback."
Gavaskar pointed out that dropping the catch of an in-form player like Cook proved costly and was also critical of the composition of India's slip fielders.
"Pujara normally fields at forward short-leg. After Rahul and VVS (Laxman) retired, it has been Viru (Sehwag) at the first slip and Virat (Kohli) in the second slip. I don't know why Viru was standing in the slips only to spinners," Gavaskar said.
Photograph: BCCI