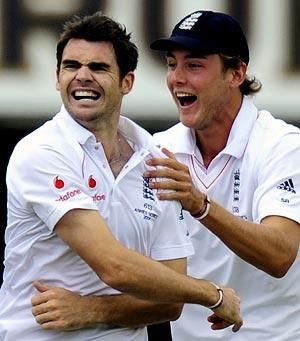 Refusing to succumb to the lure of the cash-awash Indian Premier League (IPL), England pace duo of Stuart Broad and James Anderson on Monday opted out of the Twenty20 extravaganza, saying they want to keep themselves in prime condition for national duty.
Broad said, through his management agency, that he would love to play in the IPL at some point of time but as of now international cricket topped his priority list, according to a Press Association report.
"Whilst the chance to play in the IPL is potentially a great opportunity, my number one priority is, and always will be, to represent my country," said the fast bowler.
"The IPL is a tournament I would like to play in at some stage in the future but my international career is my sole focus at this stage in my career, so I have decided I will not be competing in next year's IPL," said Broad.
Lancashire pacer Anderson had more or less a similar reason to opt out of the third IPL scheduled in March-April next year.
"I am proud to be playing cricket for England and my international career is more important than anything, which is why I have decided not to compete in the IPL in 2010," the 27-year-old pacer said.
"Taking on Australia next winter is going to be a huge challenge and one that I am fully committed to. I want to be an integral part of the first England cricket team to retain the Ashes since 1972, and I will be giving myself the best possible chance of achieving that by not playing in the IPL," Anderson said.
Broad and Anderson are apparently afraid that an increased workload might lead to injuries.
It was during IPL that England's talismanic all-rounder Andrew Flintoff injured his knee while maverick batsman Kevin Pietersen also aggravated his Achilles injury while training for the Bangalore Royal Challengers.
Photograph: Reuters