England captain Alastair Cook is "fruatrated" with his side's performance so far in the ongoing ODI series but refused to blame lack of effort from the players as the reason for the visitors fourth successive loss to India.
Cook said his players could not execute their plans and failed to convert their starts, which was the reason for England's six-wicket defeat to India in the fourth ODI at the Wandheke stadium on Sunday.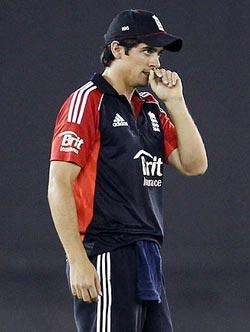 "It's quite frustrating. We have not performed at the level we had done recently. We can't fault training, effort or desire or commitment. We are performing anywhere near to what we can do," said Cook.
"We are definitely talking the right thing, but we need to execute it. We are scoring a lot of 30s and 40s but not getting big scores. It's not easy to get that. Once you get set you need to score big because you can lose wickets in clusters."
"We have talked about it. You can talk as much as you can but it's up to the individuals to respond and deliver," he added.
Cook said he was aiming for a total of 270 to 280 in the fourth ODI on Sunday, but the team ended up with only 220.
Asked why the team had rested their main spinner Graeme Swann, Cook said the aim was to give young leg-spinner Scott Borthwick a chance to play as the series was already lost.
"It's not often in an international series that you get a chance to expose an youngster with no pressure. That's the reason we exposed Borthwick. He bowled quite well though the figures don't suggest so," he said.