England batsman Eoin Morgan has said the team could successfully defend their World T20 title without Kevin Pietersen.
Morgan is the natural choice to replace Pietersen, and with 81 one-day caps is ready to prove he is up for the job.
He said: "Not having Kevin around in the last game probably hit home that we're going to be without a world-class player, which isnt good.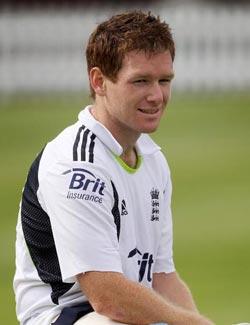 "Going to a World Cup and defending our title is going to be difficult, but the game against the West Indies was huge for us because Alex came in and did exceptionally well and won us the game. That was a massive confidence booster. I think we can win it without Kevin."
Morgan is the middle-order maestro with a similar range of strokes to Pietersen, The Daily Mirror reports.
He said: "I can remember coming into the side and loved batting with KP because he was so confident and you were never under pressure to score runs. After playing so many games you don't feel that pressure yourself as much so you can just go out and perform.
"If I can now do the same for the other guys coming in the same way Kev did for me, then the responsibility becomes a natural thing to take on. I don't think not having Kevin puts me under more pressure. I still think we have the skills in the side to be as explosive and as powerful as when Kev was in the side.
"We have the solidity of the guys up front and then Ravi Bopara, myself and Craig Kieswetter to come in means there is a structure that remains very similar."