Alastair Cook closed in on a 25th Test century after deciding not to enforce the follow-on as England, looking to ensure a series victory over New Zealand, built a substantial lead in the second and final Test on Sunday.
England were 180 ahead after the first innings and increased that to 296 in progressing to 116 for one at the close of the third day at Headingley.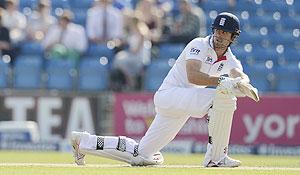 Cook was unbeaten on 88 and Jonathan Trott a snail-like 11 from 69 balls. England's one blot was another failure by out-of form opener Nick Compton who could make a painstaking seven only.
Earlier, off-spinner Graeme Swann took four wickets, including three in seven balls, and paceman Steven Finn three as New Zealand's batting frailties were once again exposed.
One week after being skittled for 68 to lose the first Test by 170 runs at Lord's, the tourists collapsed spectacularly again to be bowled out for 174 in replying to England's 354.
Brittle New Zealand were dismissed in little over 1-1/2 sessions, their score flattered by a belligerent counter-attack from last pair Neil Wagner (27) and Trent Boult (24 not out) who plundered 52 quickfire runs.
From 55 without loss, New Zealand slumped to 122 for nine. Swann, exacting turn and bounce, claimed figures of four for 42 after barely turning over his arm at Lord's and Finn three for 36 with opener Peter Fulton top-scoring with 28.
They lost eight wickets in a one-sided afternoon session but instead of going for the jugular, England captain Cook opted to bat again.
Cook's ease at the crease was in direct contrast to Compton, whose search for form ahead of the Ashes series against Australia starting in July ended in more disappointment.
Compton, out for one in the first innings, scratched around for 84 minutes and 45 balls before he offered up a glove-pad chance to Hamish Rutherford at short-leg off spinner Kane Williamson.
His last six Test innings have yielded only 54 runs since he scored centuries in successive Tests in New Zealand in March.
New Zealand had begun the day well by wrapping up England's innings in 24 minutes, the hosts adding just 17 to their overnight total in losing their last three wickets.
Boult claimed five for 57, his second five-wicket haul in an innings against England this year after returning Test-best figures of six for 68 in the drawn third Test in Auckland in March.
The left-armer bowled only two overs in England's second innings before leaving the field with a side strain.
Scorecard
England first innings 354 (J.Root 104, J.Bairstow; T.Boult 5-57)
Second innings
A Cook not out 88
N Compton c Rutherford b Williamson 7
J Trott not out 11
Extras (b-8 lb-1 w-1) 10
Total (for one wicket, 41 overs) 116
Fall of wicket: 1-72.
Bowling: Boult 2-1-2-0 Southee 9-3-30-3 Wagner 9-2-31-0 Williamson 15-4-32-1 Bracewell 6-3-12-0 (1w).
New Zealand first innings
P Fulton c & b Finn 28
H Rutherford c Bell b Finn 27
K Williamson lbw b Swann 13
R Taylor b Finn 6
D Brownlie b Swann 2
M Guptill b Swann 1
B McCullum c Prior b Broad 20
T Southee lbw b Broad 19
D Bracewell c Bell b Swann 1
N Wagner b Anderson 27
T Boult not out 24
Extras (lb-5 w-1) 6
Total (all out, 43.4 overs) 174
Fall of wickets: 1-55 2-62 3-72 4-79 5-81 6-81 7-119 8-122 9-122 10-174.
Bowling: Finn 12-3-36-3 Anderson 7.4-2-34-1 Broad 15-2-57-2 Swann 9-1-42-4.
Photograph: Philip Brown/Reuters