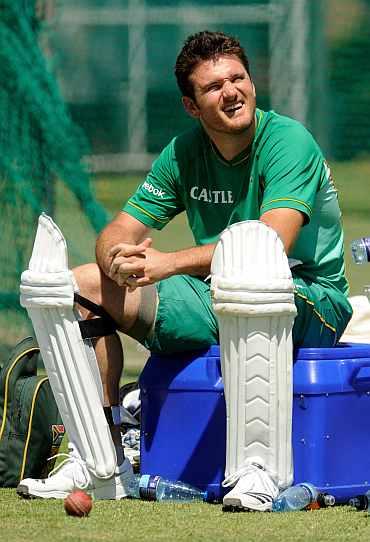 South Africa captain Graeme Smith said his team will step on the field for the Boxing Day Test match against India with an aim to set right its poor record in Durban, having lost their last four games at the venue.

The Proteas missed a chance to go 1-0 up in the series, as they could manage only a draw in the first Test at Johannesburg, closing shutters when they needed only eight runs to win, chasing a mammoth 458.

"From an emotional perspective, it's been an interesting few days. As a team, perspective is always important and putting things into context, understanding what needs to be done. I feel we're mentally ready. Hopefully, it will be really good, high intensity and we'll be ready for Boxing Day," said Smith.

"Kingsmead has always been a tougher place to bat. It is a tougher pitch to control. We don't have the best record in Durban over the last few seasons and we are looking forward to the opportunity to put that right now," he added.

South Africa last won a Test at Durban way back in 2008, beating West Indies. Since then, they have lost to Australia, England, India and Sri Lanka.

It is the first thing in a list which must be bothering Smith, besides the Kingsmead pitch.

"One of the reasons for our poor record is the pitch. It's a surface that can change every day. Statistics say that day two is more difficult to bat on than day one, pretty similar to Wanderers. But overhead conditions and weather can play a big role here.

"It can get hot, it can get flat and then there are times it can do a bit. It's just about reading those moments of the game well and making sure you can be effective," he explained.

The next bit on the Proteas' plate will be deciding on their eleven. First they have to take a call on Morne Morkel, who twisted his ankle in the first Test and is on the road to recovery. Then they have to decide the role of Imran Tahir and whether they want a spinner in the playing eleven at all.

"We have been really fortunate that we haven't had too many, touchwood, serious injuries to our frontline three seamers especially. A decision will be made about Morne this evening, so there's still hope that he will come through. The medical staff will make the decision on that.

"But outside that, we've seen performances from guys that have been in and around the squad. Guys like Kyle (Abbott), who has come in as cover for him. He's played a one-off Test match and played very well. Rory Kleinveldt has been around the squad for a period of time and had a taste of international cricket at its toughest in Australia.

"So I feel we have enough basis covered to hopefully still be effective even if Morne's not fit," said Smith.

Talking about the spin angle, the skipper said, "We will make the decision in the best interest of the team, based on how we feel the wicket will play throughout the five days, not just one day. The Wanderers historically is a difficult place for a spinner to bowl and R Ashwin wasn't effective either.

"First we need to see how Morne comes through his fitness test and then decide what's going to be our best attack to win this Test match and make those decisions accordingly."
Smith will also be hoping that the top order batsmen can stay at the wicket and lay a foundation for the middle and lower order. In the first Test, the top-order had a lot of problems facing the India bowling attack, who had veteran Zaheer Khan returning with his bag of tricks to trouble the Proteas' skipper.

"The top three in any Test line-up plays a crucial role. If you go back generations, there's no successful team without top three batsmen who can put in performances and set games up. It really is a big stepping stone to set up a Test match win, especially when you've got stroke players in the middle order. It's important that we do the hard yards for them and get the new ball old and soft," said Smith.

"The workload of the first Test will be in their legs," added Smith, talking about the Indian bowlers. "Especially if we can get a good partnership somewhere in our top order. Their three seamers did a huge amount of work and hopefully we can take advantage.

"Meanwhile, our bowlers have had an extra day to rest," he said.