They are the pillar of the Indian Test team but Rahul Dravid and VVS Laxman may have to lower their base prices in order to keep the franchises interested for the upcoming fourth edition of Indian Premier League (IPL).
Sources in the franchises said they would only be interested in buying the two star batsmen if the duo lowers their base price from Rs 92 lakh ($200,000) to the lower bracket of Rs 46 lakh ($100,000).
"Let's get one thing clear. Sourav Ganguly and Anil Kumble's IPL performance is pretty decent. So, one can expect that Sourav, who is an all-rounder, can be bought for a decent price, considering his base price of Rs 92 lakh. Also for KKR, buying him at a lower price from auction is a far more viable option than going for retention where he would cost $1.8 million," a senior KKR official said on Monday.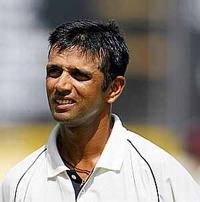 Officials of a couple of more franchises also aired the same opinion.
"Dravid and Laxman do not feature in the T20 or ODI teams. So the only place where they play is IPL. The first edition had a lot of novelty factor. But now the teams are more focussed on curtailing the budget and getting their economics right. So no way can one expect a franchise to spend Rs 1 crore on Dravid or Laxman as they won't be automatic choices in the playing XI," one of the officials of a western-India based franchise said.
The last date for franchises to inform about the player retention is December 6 and as of now, only Sachin Tendulkar, Mahendra Singh Dhoni, Virender Sehwag are favourites to be retained.