Since he did not see himself playing the 2015 World Cup, it was appropriate to quit the 50-over format in the best interest of the Indian team, batting great Sachin Tendulkar has said.
The senior batsman said it was best to allow team find a winning combination ahead of the tournament, to be held in Australia and New Zealand.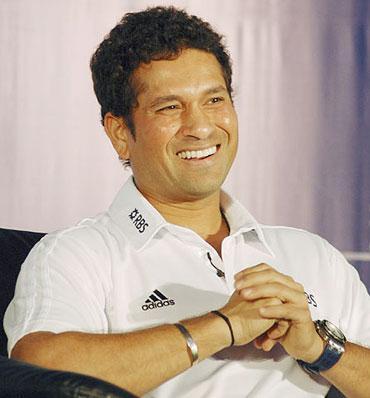 The 39-year-old batsman said it was right to walk into the sunset, keeping in mind India's title defence.
"I felt in 2015 when we go to Australia and New Zealand we should be fully prepared to lift the trophy again.
"I don't see myself playing in the 2015 World Cup and that's why I felt I should back off and the team should move ahead and form a
balance, formidable combination for the 2015 World Cup," Tendulkar told NDTV.
One of the game's all-time greats, Tendulkar, announced his retirement from one-day cricket in December last year, bringing to an end a glorious 23-year-old career in the One-day format during which he rewrote numerous batting records.
Tendulkar to release Yuvraj's memoir
Meanwhile, Tendulkar will release a book that traces his teammate Yuvraj Singh's successful battle with cancer.
Titled In Different Form, the book chronicles his journey while he was being treated for a rare germ cell cancer between his lungs a few months after India's World Cup triumph in 2011.
"Sachin Tendulkar is going to be there at the book launch," Yuvraj said at an event organised by his cancer initiative YouWeCan to celebrate the World Cancer Day.
The book is expected to hit the stands in March.