Set to embark on a short cricket tour of Sri Lanka, India's captain Mahendra Singh Dhoni said it is important that his team begins the new season with a good showing in the upcoming limited-overs' series.
Dhoni said a good series against Sri Lanka will be a confidence booster ahead of September-October's Twenty20 World Cup, in the same country.
India will play five one-dayers and one-off Twenty20 International against Sri Lanka, starting July 21.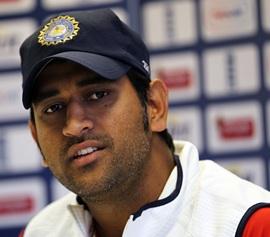 "It's a hectic schedule, but as professionals we have to maintain our standard. We will play in different venues and travelling will also be there. It's the start of the season and we want to start it on a good note," Dhoni told reporters on Tuesday, on the eve of the team's departure on Wednesday.
"Sri Lanka is not a new place for us. We have played series there at least once each year and even twice in a year. Conditions are also not so different from India and acclimatizing to conditions will not be difficult," he said.
"This Sri Lanka series is good for us. We have to come back in Sri Lanka again for the Twenty20 World Cup. It will help us," he added.
Asked to comment on the role of a captain in improving performance, Dhoni replied, "I don't want to name an international team. But if you are made captain of Alaska team it will be very difficult to win matches. A captain's job is to channelise the resources. The individual reactions are also important.
"How the bowlers performed and how the batsmen build partnerships are important. Without a good team it's difficult to achieve success," said Dhoni.
He spoke about the hectic schedule of Indian players but said that as professionals they have to play to win each and every match.
The team's two-day camp came to an abrupt end earlier in the day after a sudden downpour forced the players indoors at the M A Chidambaram stadium.
Heavy rain at around 5:15 pm local time forced the closure of the camp about two hours ahead of the scheduled time.
Photograph: Getty Images