South African captain AB de Villiers anchored his side's run chase as they beat New Zealand by six wickets at Wellington Regional Stadium on Saturday to take a 1-0 lead in their three-match One-day international series.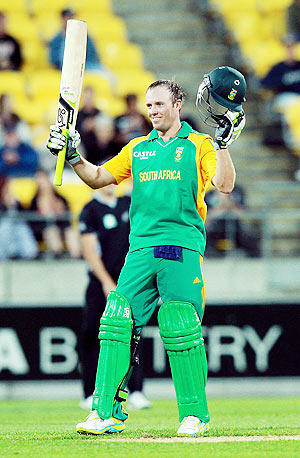 De Villiers stroked his 13th One-day century to finish 106 not out and combined in a 90-run partnership with JP Duminy (46) and for 129-runs with Faf du Plessis (66 not out) as the visitors overhauled New Zealand's 253-9 with 28 balls to spare.
The result ended New Zealand's unbeaten run of seven matches at the stadium stretching back to January 2006 and was the highest successful run chase at the ground, eclipsing New Zealand's 237-2 against Zimbabwe in 2001.
The decision review system was also put to use by both sides, as it overturned three dismissals given on the field by umpires Chris Gaffaney and Richard Illingworth.
Du Plessis was given out lbw on 10 from the bowling of Doug Bracewell but immediately requested a review and the decision was overturned with replays showing the ball would have bounced well above the wickets.
New Zealand captain Brendon McCullum, who had top scored with 56 for the hosts, also had two dismissals overturned.
He was given out lbw on the first ball he faced from Lonwabo Tsotsobe and again when he was ruled to have been caught behind by De Villiers from Robin Petersen when he was on three.
Replays showed the lbw delivery would have bounced over the stumps, while he failed to hit the ball from Peterson.
The 30-year-old then combined with Kane Williamson for a 79-run third wicket partnership, with the 21-year-old Williamson eventually making 55.
James Franklin (32) and Andrew Ellis (20) provided some lower-middle order resistance to guide the hosts to their total.
South Africa's fast bowlers had proved to be difficult to get away as they bowled short of a length, while medium-pacer Jacques Kallis cleverly took the pace off the ball to get rid of the dangerous Jesse Ryder and McCullum.
The second match is in Napier on Wednesday.
SCORECARD
New Zealand:
R Nicol c Kallis b Peterson 30
M Guptill c de Villiers b Tsotsobe 7
B McCullum c Peterson b Kallis 56
K Williamson c de Villiers b Tsotsobe 55
J Ryder c Smith b Kallis 6
J Franklin c Amla b M. Morkel 32
A Ellis b Steyn 20
N McCullum b M. Morkel 15
D Bracewell std de Villiers b Peterson 0
K Mills not out 4
T Southee not out 4
Extras: (B-4, LB-10, W-7, NB-3) 24
Total: (For 9 wickets in 50 overs) 253
Fall of wickets: 1-25, 2-58, 3-137, 4-153, 5-194, 6-211, 7-230, 8-234, 9-249
Bowling: Tsotsobe 10-1-41-2, M Morkel 9-0-49-2, Steyn 9-0-37-1, Peterson 10-1-45-2, Duminy 5-0-22-0, Kallis 7-0-45-2.
South Africa:
H Amla b Southee 8
G Smith c Ryder b Mills 9
J Kallis c Williamson b Bracewell 13
JP Duminy c & b Nicol 46
AB de Villiers not out 106
F du Plessis not out 66
Extras: (LB-1, W-5)6
Total: (For 4 wickets in 45.2 overs) 254
Fall of wickets: 1-17, 2-17, 3-35, 4-125.
Bowling: Mills 7-0-27-1, Southee 10-0-64-1, Bracewell 10-1-61-1, N McCullum 7-0-25-0, Nicol 5-0-43-1, Ellis 5-0-26-0, Franklin 1-0-5-0, Williamson 0.2-0-2-0.