The 100-day countdown of the 2011 World Cup began in Dubai [ Images ] on Tuesday with the International Cricket Council [ Images ] hoping the mega-event in the sub-continent would be a "special one".
The 43-day, 49-match tournament will be played under a new format with India [ Images ] hosting a majority of matches (29), including the final at the new-look Wankhede stadium in Mumbai [ Images ] on April 2.
ICC [ Images ] Chief Executive Haroon Lorgat [ Images ] said the ICC has learnt lessons, especially the problem of low turn outs due to the high prices of tickets in the last World Cup held in the West Indies [ Images ] three years ago.
"I hope lessons learnt from 2007 will help us and we have done everything to make this event in the sub-continent a special one," Lorgat told reporters.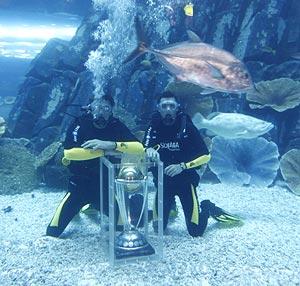 The opening ceremony will be held in Dhaka, Bangladesh on February 17.
India, Bangladesh and Sri Lanka [ Images ] jointly host the 10th World Cup from February 19 to April 2.
"It was spectacular to watch the 100-day countdown ceremony and the ICC and the three host countries are gearing up for the World Cup," Lorgat said.
The World Cup trophy was displayed by South African players Morne Morkel [ Images ] and Dale Steyn [ Images ] in the Dubai aquarium.
The duo dived into the aquarium to start the ceremony which was also attended by ICC officials. Other members of the South African and Pakistani teams who were playing an ODI series here were also present.
Pakistan were also due to co-host the 2011 World Cup, but were stripped of their rights due to security concerns in the volatile nation in the aftermath of the terror attack on the Sri Lankan team in March last year.
"Due to unavoidable circumstances we had to shift the matches from Pakistan and I welcome all the fans there to come to Sri Lanka and support their team as they always do," said Lorgat. Pakistan coach Waqar Younis [ Images ] hoped Pakistan do well in the World Cup.
"It was nice to begin the 100-day countdown here. We still have one series to play in New Zealand [ Images ] and hope that we remain focused to win the mega event," said Waqar, who was Pakistan captain in the 2003 World Cup.
South African captain Graeme Smith [ Images ] said he hoped the World Cup would be a success.
"The World Cup is a prestigious event and being held in the sub-continent, where cricket is a passion, makes it a special event. Every team wants to win the World Cup and we will also make extra effort to win it," said Smith, whose country has never won the mega-event since being re-admitted to international fold in 1992.
Image: Morne Morkel (left) and Dale Steyn with the World Cup trophy in the Dubai Aquarium