Australia captain, Michael Clarke, who recently married model Kyly Boldly has said that he will quit cricket before passing his mid-30s, unlike many of his predecessors.
Clarke said he won't continue to play on into his late 30s like former Australian captains Steve Waugh who played till 38, and Ricky Ponting who, at 37, who is still in the fray.
The 31-year-old said he has been 'blessed' by cricket and marriage to Boldy and would be settling down within a few years.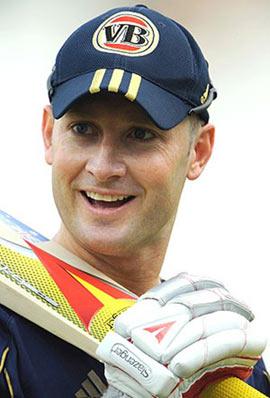 "I am enjoying playing now but in time I won't be the guy playing at 38, 39, 40," Clarke was quoted as saying by the Australian media.
"I hope I can have my impact in a short space of time and then be finished. I would love to see the team have success, achieve what it can achieve," he added.
Clarke said that he will draw curtains to his career the moment he finished as Australia skipper, unlike Ponting who has continued to play under his successor for 10 months.
But before that Clarke said toppling South Africa this summer and then top-ranked ranked England were his priorities.
"I have so many goals I want to see this team achieve and when my time is up, it is up," he said.
Clarke will lead Australia in a five-match ODI series against England from June 29.