Michael Clarke got his captaincy off to a terrific start, smashing a century and leading Australia to a 60-run win over Bangladesh in the first One-day International in Dhaka on Saturday.
Clarke made 101 off 111 balls as Australia recovered from 90 for three to post a challenging 270 for seven before their bowlers restricted Bangladesh to 210 for five in their 50 overs.
The home side started wobbling when they lost their first two wickets for nine runs and could never pose any serious threat to Australia despite opener Tamim Iqbal (62) and captain Shakib Al Hasan (51) each contributing.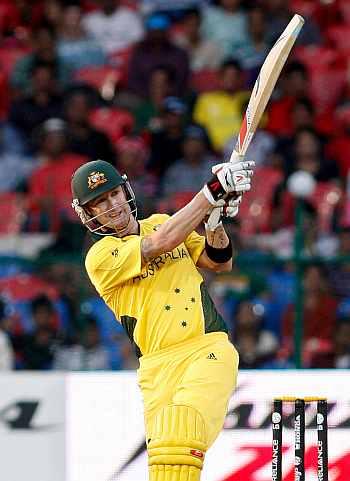 All eyes were on Clarke as he began his reign as full-time Australian captain and the 30-year old middle-order batsman put on a fine display.
Clarke had captained Australia in 24 one-dayers in the absence of Ricky Ponting but took over the role properly when Ponting stepped down after their quarter-final exit at the recent World Cup.
He replaced his predecessor Ponting (34) at the crease and completed his century in the final over of the Australia innings with a spectacular six through midwicket off Mashrafee Mortaza.
Mahmudullah, who dropped Clarke on 84, took a catch at long on off the next ball to end his innings and give Mortaza his second wicket.
Ponting, playing his first game as just a batsman again, was run out attempting a third run after he had swept left-arm spinner Suhrawadi Shuvo.
Mortaza claimed 2-65 on his comeback to international cricket after missing out on the World Cup with a knee injury.
Scorecard
Australia:
S. Watson lbw b Abdur Razzak 37
B. Haddin b Mashrafe Mortaza 10
R. Ponting run out 34
M. Clarke c Mahmudullah b Mashrafe Mortaza 101
C. White c Imrul Kayes b Suhrawadi Shuvo 20
M. Hussey c Mahmudullah b Suhrawadi Shuvo 33
S. Smith b Suhrawadi Shivo 1
M. Johnson not out 26
J. Hastings not out 0
Extras: (lb-3 w-4 nb-1) 8
Total: (for seven wickets; 50 overs) 270
Fall of wickets: 1-16, 2-81, 3-90, 4-138, 5-222, 6-225, 7-264
Bowling: Shafiul Islam 9-1-55-0, Mashrafe Mortaza 9-0-65-2, Abdur Razzak 10-0-54-1, Suhrawadi Shuvo 8-0-44-3, Shakib Al Hasan 10-0-34-0, Mahmudullah 4-0-15-0
Bangladesh
Tamim Iqbal c Smith b Doherty 62
Imrul Kayes c Haddin b Lee 4
Shahriar Nafees lbw b Johnson 0
Raqibul Hasan c Watson b Hastings 7
Shakib Al Hasan c Watson b Smith 51
Mushfiqur Rahim not out 44
Mahmudullah not out 28
Extras: (lb-2, w-11, nb-1) 14
Total: (for five wickets; 50 overs) 210
Fall of wickets: 1-8, 2-9, 3-49, 4-116, 5-149
Bowling: Lee 8-0-36-1, Johnson 8-0-23-1, Hastings 8-0-31-1, Watson 8-0-35-0, Doherty 10-1-36-1, White 1-0-6-0, Smith 7-0-41-1.