Yasir Arafat is not excited about being the lone Pakistani player in the Champions League but the 27-year-old Sussex all-rounder acknowledged the fact that it's a huge honour to be part of the high-profile league.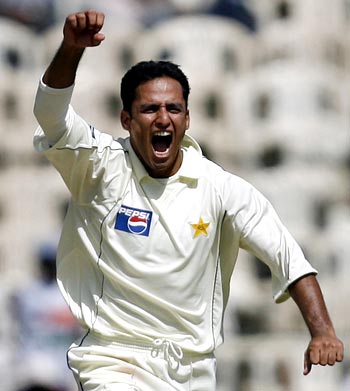 Three Indian Premier League teams, which made it to the Champions League, have sacked their Pakistani recruits since Indo-Pak relation soured following last year's Mumbai terror attacks.
Being a key member of the Sussex line-up makes Arafat the lone Pakistani player in the tournament and though he is sad for his compatriots who would miss out, the youngster is hoping to put his best foot forward.
"It's sad that no other player from my country is playing in the tournament," Arafat said on Tuesday.
"But as far as I am concerned, I am honoured to play in the Champions League. It's a huge tournament and I would like to give my best," he said.
He has done well for Sussex since making his debut for the county in 2006.
In his first three games for Sussex, he took 17 wickets with two five-wicket hauls and scored a couple of fifties.
"Sussex was a great opportunity in my career. There are lots of all-rounders in the Sussex team, so they mainly use me as a bowler. They used me with the new ball as well as with the old ball and it helped me a lot," Arafat said.
"The conditions in Pakistan and England are different but as a professional cricketer you have to adjust. It takes a little time but eventually you come to terms with the conditions," he said.
Nine years since his international debut Arafat has not been able to cement his place in the Pakistan side, mainly due to the existence of superior all-rounders in Shoaib Malik, Abdul Razzaq and Shahid Afridi.
The youngster, however, felt the selectors never showed patience with him.
"Presently, there is a lot of competition in the Pakistan team. A lot of good all-rounders have come up recently. Two years back I made a great Test debut against India, picking up seven wickets and scoring 44 runs in the match.
"I was there even in the Twenty20 World Cup squad but unfortunately, I got injured and was ruled out. It's not that I didn't get chances. I got chances on and off but not consistently. This a question the selectors can only answer," Arafat said.
The cricketer revealed his father had named him after the deceased Palestine leader Yasser Arafat and his elder brother after cricketer-turned-politician Imran Khan.
"My father Mohd Idreez admired Yasser Arafat and named me after him and he christened my elder brother so because he admired Imran Khan as well," Arafat said.