Life has been cruel to Cheteshwar Pujara.
The Saurashtra youngster made a dream start to his international career, scoring a half-century on debut against Australia at Bangalore to set up India's victory in the second Test in October 2010. Immediately he was touted as the next big star of Indian cricket.
But the good start was ruined by a spate of injuries that kept him out for the last 12 months. He suffered a knee injury while playing for Royal Challengers Bangalore in last season's IPL and since worked on regaining fitness.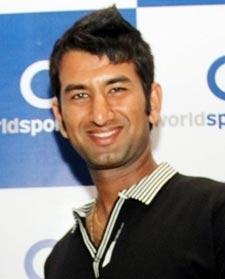 In November, the 24-year-old Saurashtra batsman started playing domestic cricket and, after gauging his fitness levels, is eyeing a place back in the Indian team.
The team's debacle in Australia should indeed hasten his case, as he comes across as a complete batsman with the right technique and maturity to succeed at the highest level.
If things go well, Pujara could be playing in the Indian team as early as next month, from March 12 to 22, when India takes part in the 2012 Asia Cup, involving neighbours Pakistan, Sri Lanka and Bangladesh.
"I have completely recovered from my injuries. I want to make it to the Indian team for the Asia Cup. Since I have recovered from my injury, I am working hard and looking to improve my game," he said, on Monday.
"My focus is to score runs for the team in whatever matches I play. At the moment I am playing domestic cricket and I am looking to do well," he added, at an event in Mumbai, where became only the third cricketer after Sachin Tendulkar and Gautam Gambhir to sign up with the World Sports Group.
The youngster also revealed that he wants to be a permanent fixture in the Indian team once he does make a comeback.
"Every cricketer's dream is to play for the country. I have already achieved that dream, but I don't just want to play one or two matches, but play for a long time and do well, just like our legends Sachin Tendulkar and Rahul Dravid. If I do well, then I will obviously be in the team and won't need to worry about anything else," he said.
The Indian Premier League has been blamed as one of the factors for India's poor performances away from home, but Pujara slammed the theory.
"If you look at the positive side, then we have got quite a few players from the IPL who have gone on to play for India. So IPL is that platform where youngsters get an opportunity to play with international players and show their talent.
"After the players do well in domestic cricket, their next big opportunity to prove themselves is the IPL.  So I don't think that IPL is causing any harm to Indian cricket," he said.