- Scorecard: Royal Challengers vs Otago Volts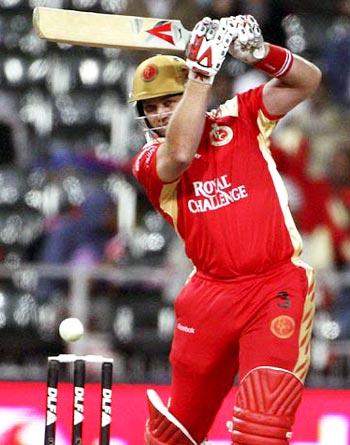 Jacques Kallis's superb all-round show ensured Royal Challengers a berth in the next round of the Champions League Twenty20 tournament, after a convincing 80-run victory over Otago Volts, in Bangalore, on Monday.
The South African all-rounder's unbeaten 73 from 59 deliveries first helped the Royal Challengers post a challenging 188 for 2 in their 20 overs. Then, struggling with a rib injury, he followed it up with a brilliant performance with the ball, claiming three wickets for 18 runs in four overs, as Otago were dismissed for 108 in 17.5 overs.
The victory handed the home team a berth in the Super Eights League stage.
While Kallis batted through the innings despite batting a rib injury, Kiwi Ross Taylor also held centrestage with an entertaining knock of 32 from 11 deliveries that included three sixes in the final over after Robin Uthappa had blasted 42 from 31 deliveries at the start..
OTAGO VOLTS:
Many thought that Kallis would not take up bowling duties after struggling with the rib injury while batting, but he was the one who rocked Otago with two wickets in his second over.
Otago openers Aaron Redmond and Brendon McCullum struggled to get going in the initial overs and two of three boundaries they got in the first three overs were courtesy misfieldings.
Redmond started with a boundary in the first over of the innings by Praveen Kumar and McCullum got a lucky boundary in the next after a misfield by Kumar.
Kumar used the slower deliveries quite well, keeping the batsmen guessing as the ball kept low on a few occassions, as Otago reached 17 after three overs.
It was not long before Kallis struck with the key wicket of McCullum, who lofted one straight to Kumble at mid-on after scoring just five from 11 deliveries, in the fourth over.
Two deliveries, later Redmond was surprised by a quick bouncer from Kallis. The Otago right-hander went for the pull but got only a top edge that lobbed to Uthappa in the cover region and was out for 11.
Left-hander Hamish Rutherford counter-attacked as he slammed Vinay Kumar for three boundaries to take Otago to 32 for two after five overs.
Kallis's golden run with the ball continued as he struck for the third time with the wicket of Rutherford, caught at mid-off for 14, as Otago slipped to 32 for three in the sixth over.
The South African all-rounder was hit for two boundaries in his final over by Neil Broom and Craig Cumming, but despite that beating finished with remarkable figures of three for 18 in four overs, including one maiden.
Broom was run out for 7, thanks to some sharp thinking by wicketkeeper Mark Boucher, as Otago slipped to 49 for four in the ninth over.
Captain Craig Cumming showed scant respect for his counterpart and legendary spinner Anil Kumble, carting him over midwicket for a six.
Nathan McCullum tried the impossible against Kumble only to cause his own downfall. McCullum tried the reverse sweep but missed the ball and was trapped plumb in front of the stumps for 8.
Otago's wickets continued to tumble as left-arm spinner Roelof van der Merwe trapped Dmitri Mascarenhas leg before wicket for three to reduce the Kiwi side to a paltry 70 for six in the 12th over.
Ian Butler (1) lasted just two deliveries before he was trapped leg before wicket by the quicker one from Kumble as Otago were reduced to 75 for seven in 12.1 overs.
All-rounder Balachandra Akhil started with a wicket in his first over when Cumming hit a short delivery straight to Uthappa at point after scoring 20 from 17 deliveries.
Vinay Kumar finished things quickly with two wickets in his third over as Otago were dismissed for a lowly 108 in 17.5 overs. Vinay deceived Derek de Boorder with a slower delivery that the batsman tried to hit through the leg side but was early with the shot and bowled for 16.
Two deliveries later Neil Wagner lofted one on the off-side and, quite deservedly, Kallis took the catch.
Royal Challengers won by a huge margin of 80 runs to advance to the next stage along with Group C toppers Cape Cobras, while Otago return home empty handed, having lost both their matches.
ROYAL CHALLENGERS:
Local boy Uthappa got the Challengers off to a flying start with a quickfire 42 from 31 deliveries that was laced with five boundaries and two sixes.
Kallis kept finding the boundary at regular intervals as Challengers made sure they finished on a good total in a do-or-die match for both the teams to progress to the Super Eights.
After three quiet overs, Challengers broke the shackles in Dmitri Mascarenhas's second over when Kallis drove him through point for a boundary and Uthappa followed it up by launching him wide of long-on for a six.
It was Uthappa, who was more dangerous of the two, as he hammered straight boundaries in successive overs off  Warren McSkimming and Ian Butler to take Challengers to 53 after seven overs.
Kallis seemed to be struggling with a rib injury while running between the wickets but that did not hamper his batting as he set about laying a solid foundation for the batsmen to follow.
Uthappa made sure off-spinner Nathan McCullum was not allowed to settle and launched him once again through wide of long-on for his second six and followed it with a reverse sweep for a boundary in the ninth over.
Part-time leg-spinner Aaron Redmond got the crucial wicket for Otago, dismissing high-flying Uthappa. The Indian batsman tried to play Redmond through the leg side but got a leading edge and was neatly held by Craig Cumming, diving forward, after a fine knock of 42 from 31 deliveries. (75-1, 9.5)
The Uthappa-Kallis 75-run opening partnership in 59 deliveries had given Challengers the perfect foundation in their quest for a huge score in this vital game.
Youngster Virat Kohli got off the mark in style, guiding Nathan McCullum for a boundary fine of the third man fielder in the 11th over. Part-timer Redmond had bowled two good overs while claiming a wicket, but Kohli was in no mood to let him continue in the same rhythm and lofted him over the cover region for a boundary.
Mascarenhas continued to suffer in his second spell as Kohli slammed him for back-to-back boundaries in his final over as Challengers reached 121 for one after 15.
In the next over, Kohli flicked Warren McSkimming through square leg for a boundary to bring up the 50-run partnership for the second wicket with Kallis off just 33 deliveries.
Two deliveries later, Kallis brought up his half-century off 46 deliveries with a boundary through fine leg.
Left-armer Wagner came back for his second spell and immediately claimed the important wicket of Kohli, who scored a quick 32 from 19 deliveries, inclusive of five boundaries.
The India youngster made sure Challengers made most of the good start given by Uthappa as he put on 59 runs in 38 deliveries for the second wicket with Kallis.
Veteran Kallis continued clobbering the bowlers and hit back-to-back sixes off Ian Butler and Neil Wagner to lift the scoring in the final overs.
Kallis hit his first six when he picked Butler's slower delivery and carted it over long-on; in the next over he dismissed Wagner over long-off for another maximum.
Taylor gave the innings a perfect finish with three sixes in the final over. He started with a boundary through midwicket and followed it up with a huge straight six off Butler before the pacer went off injured.
McSkimming replaced Butler for the last three deliveries but even he was sent packing into the stands twice in three deliveries by Taylor.
Taylor finished unbeaten on a blazing 32 from just 11 deliveries, having hit three sixes and two boundaries to take Challengers to a huge 188 for two in their 20 overs.
Kallis finished unbeaten on a solid 73 from 59 deliveries, inclusive of four boundaries and two sixes. He and Taylor were involved in an unbroken stand of 54 in 23 deliveries for the third wicket.
Taylor's onslaught helped Challengers take the initiative, as 52 runs came from the last three overs, including 25 from the 20th over.