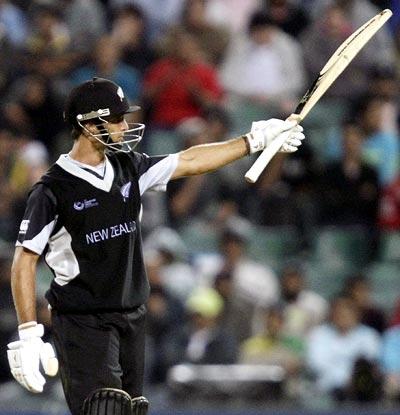 Daniel Vettori led from the front with bat and ball, and Grant Elliott sparkled with a gritty innings of 75, as New Zealand outclassed Pakistan by five wickets to enter the final of the ICC Champions Trophy in Johannesburg, on Saturday.
Chasing 234 for victory, New Zealand lost wickets at regular intervals before a 104-run partnership for the fifth wicket between Elliott and Vettori, who scored a quick 41 from 42 deliveries, sealed victory.
Earlier, Ian Butler crippled the Pakistani innings as he claimed four for 44 in his ten overs, while Vettori chipped in with vital wickets, taking three for 43, to help restrict Pakistan to 233 for nine in their 50 overs.
19-year-old Umar Akmal was instrumental in boosting Pakistan in the middle overs with a brisk 55 from 62 deliveries, adding 80 runs for the fifth wicket with Mohammad Yousuf (45 from 78 deliveries).
New Zealand will play Australia in the final in Centurion on Monday.
PAKISTAN:
Pakistan were in danger of finishing around the 200-run mark but tailenders Mohammad Aamer (19 from 20 deliveries) and Saeed Ajmal (14 from 17 deliveries) saved the day with an unbroken stand of 35 for the last wicket.
The 19-year-old Umar Akmal kept Pakistan ticking in the middle overs, scoring a brisk 55 from 62 deliveries, adding 80 runs for the fifth wicket with Mohammad Yousuf, who scored a patient 45 from 78 deliveries.
Imran Nazir started off in positive fashion as he thumped the third ball of the match, from Kyle Mills, through covers for a boundary. But both openers, Nazir and Kamran Akmal, adopted a cautious approach in the initial overs, especially against Shane Bond, as a result of which just 16 runs were scored in the first five overs.
The first bowling change was the impetus Pakistan needed. Ian Butler, introduced in the ninth over, was smashed for three boundaries by Nazir in his first over as the pacer erred with his line and length.
Bond though ensured Pakistan were not let off the hook as he struck with the wicket of Nazir. The Pakistan opener, who made 28 from 40 deliveries, was done in by a quick short delivery that Nazir could only fend to Ross Taylor at first slip. (46-1, 9.4)
Akmal took over the mantle after Nazir's dismissal and looked to keep the scoreboard moving with boundaries in successive overs by Butler and Bond.
After two disappointing overs, Butler finally found his rhythm and made Pakistan suffer with wickets in successive overs.
First, Butler sent back the in-form Shoaib Malik, who edged behind and was caught by Taylor at first slip for 2. (61-2, 12.5)
Akmal looked to take on Butler with a lofted shot over the cover region, but debutant Aaron Redmond came up with a brilliant catch running in to send back the Pakistan opener for 24 from 35 deliveries. (69-3, 14.2)
Pakistan's two most experienced batsmen, Younis Khan and Mohammad Yousuf, looked in no hurry at all and were content to bide their time as New Zealand kept things tight.
But things didn't go as per plan for New Zealand, as captain Younis Khan was snapped up by opposite number Daniel Vettori for 15. Younis tried to play Vettori on the leg side but got a leading edge to give Taylor his third catch of the innings. (86-4, 20.5)
That wicket put Pakistan back big time, as boundaries dried up before youngster Umar Akmal broke the shackles with consecutive boundaries off Vettori. The first one was slog-swept through midwicket while he tried to cut the next one but got a thick edge which sped into the third man boundary as Pakistan crossed the 100-run mark after 25 overs.
But Vettori was difficult to score off, as he bowled two maidens in his first six overs, while giving away just 19 runs to restrict Pakistan to 118 for four after 30 overs.
Akmal was intent not to let the Kiwi bowlers dominate. He once again took a liking to Vettori and slammed him for consecutive boundaries through the off-side in the 31st over. Yousuf though struggled, scoring just 29 in 63 deliveries with a single boundary, while at the other end Akmal was looking positive on 32 from 44 deliveries, inclusive of four boundaries.
Vettori brought back Bond and Mills after the 36th over looking to break the Yousuf-Akmal partnership and it was the latter who answered his captain's call. Yousuf after a patient innings of 45 from 78 deliveries played onto his stumps looking to run a short delivery to third man. (166-5, 39)
Yousuf and Akmal added 80 runs in 18.1 overs for the fifth wicket to keep Pakistan ticking in the middle overs.
Akmal never seemed in any sort of problem and brought up a deserved half-century off just 58 deliveries to take Pakistan to 174 for five after 40 overs.
Pakistan's aim of making up for the slow run rate in the middle overs by taking the Batting Powerplay in the final few overs all but ended with the quick dismissals of Akmal and Shahid Afridi within the space of four deliveries.
Akmal's brave knock came to an unlucky end when he was adjudged leg before wicket to Vettori for 55 from 62 deliveries. The youngster walked back in disgust after television replays showed he got an inside edge before he was struck on the pads. (181-6, 40.5)
In the next over, Afridi was dismissed caught behind by wicketkeeper Brendon McCullum off Butler for four, attempting to run it down to the third man region. (183-7, 41.2)
Butler bagged his fourth wicket when Umar Gul holed out on the off-side after scoring six off eight deliveries as Pakistan's batting collapse continued. (192-8, 43.3)
Pakistan took the Powerplay after 44 overs and immediately Naved-ul-Hasan stepped down the wicket and launched Vettori over the cover region for a big six. However, the Kiwi captain had his revenge off the very next delivery when he tried the slog sweep but got a top edge and was taken by Martin Guptill at midwicket. (198-9, 44.2)
Just when it looked New Zealand would wrap the Pakistan innings around 200, Mohammad Aamer spoiled their plans with three boundaries off Bond in the 47th over. Twice the 17-year-old left-hander thrashed Bond through the cover region and followed that with a pulled boundary over midwicket to collect some vital runs for his team.
Aamer scored a quick 19 from 20 deliveries, while Saeed Ajmal made 14 from 17 deliveries to lift Pakistan to a competitive 233 for nine in their 50 overs. The two tailenders added valuable 35 runs in 34 deliveries for the last wicket, having hit six boundaries between them, ensuring that Pakistan used up their full quota of overs.
Butler was New Zealand's star with the ball as he broke the backbone of the Pakistan batting in the middle overs, claiming four for 44 in ten overs. Vettori, despite struggling from a sore back, ended with respectable figures of three for 43 in ten overs.
NEW ZEALAND:
Brendon McCullum got off the blocks in style when he pulled left-armer Mohammad Aamer for a huge six over midwicket off the second ball of the innings. He then guided Naved-ul-Hasan through fine leg for a boundary and opening partner Aaron Redmond followed it up with his first boundary as New Zealand raced to 18 for no loss after two overs.
Pakistan struck with the big wicket of McCullum, who was outdone by Aamer after scoring 17 from 16 deliveries. Aamer pitched one wide off-stump and McCullum tried to launch it over the cover region but ended up skying a high catch which was neatly held by Shahid Afridi pedalling backwards. (22-1, 4.3)
Martin Guptill announced himself with a cracking six off Naved over the midwicket region and followed it up with a boundary through point three deliveries later in the eighth over.
Umar Gul's introduction paid off as he claimed the wicket of Guptill with his very first delivery. Guptill tried another short arm pull through midwicket but this time he got the top edge and was taken by Naved at mid-on for 11. (43-2, 9.1)
Ross Taylor got off the mark in style when he creamed Aamer through the covers for a boundary in the 11th over and Redmond followed it up with his fourth boundary when he slapped Gul through point.
Just when the two batsmen were getting settled, Saeed Ajmal brought Pakistan back with the wicket of Redmond, who was beaten by the doosra and caught and bowled for 31. (71-3, 16.4)
Pakistan spin twins Shahid Afridi and Saeed Ajmal kept things tight as the flow of runs dried. Taylor decided it was time to break the shackles and launched Ajmal high into the stands at midwicket to take New Zealand to 104 for three after 25 overs.
Taylor repeated the dose on Afridi when he thrashed a short delivery out of the ground through the midwicket for his second six. With the old ball hit out of the ground, the umpires called for a replacement delivery, which proved to unlucky for the Kiwis.
Afridi gave Pakistan a big boost, getting the key wicket of Taylor, who tried to play the cut short but was beaten by the faster delivery and bowled for 38 from 61 deliveries. (126-4, 29.5)
Grant Elliott milked the bowling around for a steady 42 from 77 before he was offered a reprieve when captain Younis Khan dropped one of the easiest catches at cover off left-armer Aamer.
The spinners continued piling on the pressure as boundaries disappeared, New Zealand managing just one boundary in ten overs. Daniel Vettori, who promoted himself up the order ahead of Neil Broom, dealt mainly in singles to take New Zealand to 168 for four after 40 overs.
New Zealand took the Batting Powerplay in the 43rd over, with another 59 runs needed from the last eight overs. The plan was clear, with Vettori looking to attack the bowling and Elliott concentrating on rotating the strike. They started off well as ten runs came off Ajmal's over, the 43rd of the innings.
Elliott completed his half-century off 90 deliveries, having hit just two boundaries, in the 44th over and was instrumental in keeping New Zealand in the hunt in the middle overs. Vettori, meanwhile, bagged another important boundary in the next over from Aamer to bring the equation down to 42 needed from the last six overs.
Naved started the 45th over in the worst possible way, bowling a no-ball which was carted by Vettori over mid-on for a boundary as 14 runs came from that over to tilt the scales in New Zealand's favour.
Elliott killed whatever hopes Pakistan had by slamming Gul for two boundaries and a six off consecutive deliveries in the 46th over, leaving his team to get 12 from the last four overs.
Vettori tried to finish off things in style as he danced down the wicket to play a big shot against Ajmal but was beaten in the flight and stumped for a solid innings of 41 from 42 deliveries. (230-5, 47)
However, the Batting Powerplay had worked wonders for New Zealand as they hammered 55 runs off those five overs to take the match away from Pakistan.
The Kiwi captain led from the front when it really mattered with a decisive partnership of 104 runs in 103 deliveries for the fifth wicket with Elliott.
Elliott finished unbeaten on a gritty innings of 75 from 103 deliveries, with five boundaries and a six, as New Zealand reached 234 for five in 47.5 overs to win by a comfortable five-wicket margin.
It was the Elliott-Vettori partnership that proved decisive in the final analysis, as they timed their chase really well before going ballistic in the Powerplay overs.