Australia's Perth Scorchers have opened their account in the Champions League Twenty20 after a poor start but wicketkeeper Luke Ronchi is disappointed that the two points have come because of a washout.
-Kolkata Knight Riders eliminated from Champions League T20
Perth Scorchers, who lost their opening game against the Titans, are at the bottom of group A.
-KKR's Narine plays 'under pressure' card after exit
"It has been okay. Today has been a bit disappointing because of the rain. Now we have to win the next two games. But we played some good cricket. Hopefully, we can get the weather out of our way, play some good cricket and do well," Ronchi said after the match against KKR was abandoned in Durban on Wednesday.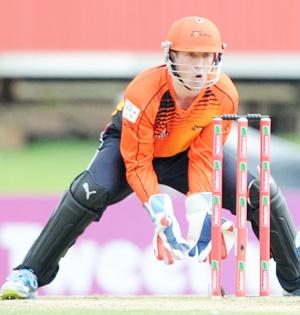 Ronchi said acclimatising to the conditions has not been too much of a hassle for his side.
"The conditions in Australia and South Africa are quite similar, so lot of the guys are sort of used to the pace and the bounce of the wickets. The guys have played some good cricket," he said.
"They are in fine touch and hitting the ball well and bowling well. This game didn't go the way we wanted it to, but now we have two games left, so we will make the most of those," he added.
Ronchi said CLT20 is a good platform for players from different parts of the world.
"It is good fun and good cricket. You are playing international players and domestic players from different countries, so it is a really good place to test your skills.
And Twenty20 cricket is competitive and is good fun to play," he said.
Ronchi said keeping a cool head would be crucial to doing well at the event.
"We are sort of quiet calm about situations when things don't go well. The guys are still pretty calm. We have some cool heads in some of the older guys so that is a big key for us. During the summer we played well so hopefully we get that chance again to play well I guess," he said.
Photograph: Lee Warren/Gallo Images/Getty Images