Following their crucial five-wicket win over Mumbai Indians in the Champions League Twenty20, in Chennai, on Sunday, New South Wales captain Simon Katich backed his side to continue their good form in the rest of the tournament.
"We had a slow start, we didn't play that well in the first game, we learned lessons from that game," Katich said.
"In the second game, we were lucky to get out of jail, but tonight's performance was a lot better. The nature of T20 is there's going to be days when some guys miss out with the bat and another steps up, but that's the beauty of our team. Hopefully as we go through the tournament, guys will put their hands up and get the job done. Smithy (Steven Smith) and Benny (Ben Rohrer) did it for us today," he said.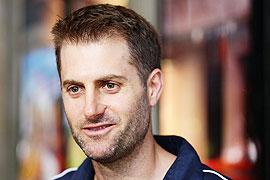 NSW face Chennai in their final group match in what could turn out as a play-off for a spot in the semifinals.
"We know Chennai are a tough team so we know we should look to keep improving in every way," Katich said.
About the wicket, on which both teams put up just over 200 runs combined, Katich said, "Look, it wasn't a great wicket, there was a lot of low bounce as well as a two-paced nature to the wicket, some balls skidded on while some went up.
"I honestly didn't think it was going to keep that low, it looked a good wicket, but it did make it hard to score (on it)," said Katich.
Katich also gave credit to his bowlers who restricted Mumbai to a paltry 100 for seven.
"I thought we bowled very, very well, I thought our fielding was excellent. So I think a lot of credit should go to the bowlers, they set the game up for us," he said.
"It was a great partnership between Benny (Ben Rohrer) and Smithy (Steven Smith) that got us home. That's the beauty of our batting line-up, we've got a lot of guys that are capable of getting the job done under pressure, like we did today," Katich said.
On giving Stuart Clark the new ball, he said, "In the first couple of games, it's a big ask for the spinners to bowl the first over and it didn't quite go to plan in the first two games. So we were just trying to get the momentum going in our way rather than letting the opposition get away.
"And today it went our way, to take a wicket in the first over, put them on the backfoot. Also too, he is a very experienced fast bowler, and you know if you can get your most experienced bowler getting the job done. No disrespect to the spinners, it's a tough ask for them to do that."