Mumbai Indians captain Harbhajan Singh wants his team to give their best in their semi-final of the Champions League T20 against Somerset, in Chennai, on Saturday, but says he will not be too bothered about the result.
"Just go out, give it your best shot and enjoy the game. If you're looking to enjoy the game, you give it everything. I'll make sure we'll give it our best on the field and whatever result we get, we'll be happy with it," said Harbhajan.
- Mumbai Indians have edge over Somerset: Pollock
"I hope we play to our potential and whatever result we get, we'll be fine," he added.
The off-spinner confirmed that one of Mumbai Indians' key players, Kieron Pollard, who was injured during training on Friday, is fit and will take the field on Saturday.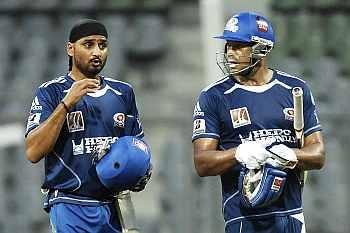 "He's fit. He will play tomorrow. Unless he does that [injures] to himself again," said Harbhajan.
- It's advantage Mumbai Indians on paper
The captain, though, admitted that his team's batting hasn't fired as a unit so far in the tournament, said form does not count too much in the T20 format.
"The kind of batting line-up we are, we have not performed to our expectations so far, apart from one game in Bangalore where we played brilliantly and got the runs on the board," he said.
Mumbai Indians' batting clicked only in one of their group matches, where they had scored 176 for five in 20 overs against Cape Cobras in Bangalore before the match was abandoned due to rain.
"Twenty20 is a kind of format in which you don't need to be in the best of form to score runs or take wickets. I only believe that.
"As a matter of fact, if you manage to connect five balls with the bat, that could be your day. And if you are a bowler, if you take a wicket with your second ball, you become a different bowler in the competition," he said.
Mumbai Indians have been permitted to add a fit Suryakumar Yadav to their team; he was initially withdrawn due to injury, and Harbhajan said the youngster is "raring to go".
Thanking the governing council for permitting the team to field five foreign players because of the number of injuries, Harbhajan said it is "going to be a tough call" to leave out any of the five foreign players for Saturday's match.
"All of them are important players. We have to put our best team on the field tomorrow and let's hope for the best."