Star all-rounder Shane Watson [ Images ] has been told to early return early from the Champions League [ Images ] Twenty20 [ Images ] by Cricket Australia [ Images ] and skipper Michael Clarke [ Images ] has backed the decision, saying it is in the national team's best interest.
Watson, playing for Sydney [ Images ] Sixers in the event, has been told by Cricket Australia  to come home early to take a break before the Test series against South Africa [ Images ] next month.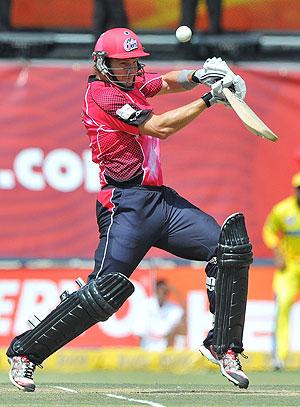 Clarke felt the CA took the right decision.
"I'm keen for Shane Watson to get his body right so he can perform throughout these Test series. Cricket Australia are learning from areas we probably didn't do as well as we wanted to last year," he said.
"Watto didn't play one Test match last summer so we're trying to rectify what we did and give ourselves the best chance of success. It's not about the individual player; it's about doing what's best for the team," he added.
Clarke said playing for the national teams should be the top priority for any cricketer.
"For me playing for Australia would be the main priority and I know Watto pretty well and I'm sure it's the same with him."
Watson was adjudged Player of the Tournament in the World Twenty20 Championships. CA chief James Sutherland said the all-rounder is way too crucial for Australia.
"Shane is a really important player for us and he's had a pretty heavy schedule recently," he said.
"I think the experience of last summer shows us we need to keep a really close eye on him. It's about giving him the best chance to be ready to play Test cricket."
Watson is the only Australian Test player who has been told to come back from South Africa, while Mike Hussey [ Images ], Ben Hilfenhaus [ Images ] and Mitchell Starc will be a part of CLT20 all through.
Photograph: Duif du Toit / Gallo Images/Getty