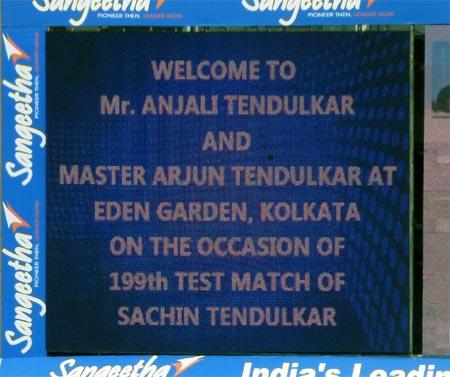 The Cricket Association of Bengal, it seems, got it totally wrong this time.
While going overboard with preparations pertaining to Sachin Tendulkar's 199th Test match, the association has neglected very basic arrangements.
How else can one explain the many gaffes related to the batting legend?
While the wax statue in front of the stadium entrance doesn't exactly resemble the legendary batsman, who was visibly displeased on seeing it, there were several other lapses even before the match could start and thereafter.
-Farewell Sachin... write a postcard to the batting icon
A day after the CAB issued an official apology for the Master Blaster's name being misspelt (as Sachine) in a banner above the electronic scoreboard, another goof-up occurred in the same area.
Even as Tendulkar's wife and son came in to watch the day's proceedings at the Eden Gardens, the giant scoreboard read 'Welcome Mr Anjali Tendulkar and Master Arjun Tendulkar'.
The gaffe was glaring and it kept getting flashed. It was after some time that the mistake was noticed, and rectified.
"It is really very unfortunate. We apologise for the inconvenience caused," said Subir Ganguly, CAB joint-secretary. Yet again, the governing body in the state had to issue a public apology.
"Never before have such things happened at Eden. However, we don't know how so many mistakes are happening this time, when such an important match is going on," explained Ganguly.
The senior official, however, remained non-committal about the Chennai-based agency that is said to be responsible for the gaffes.
"It's the agency's responsibility. But, worse is, we are helpless now as we cannot cancel their contract at this stage," said Ganguly.
"But we will talk to them after the game and take the necessary action," he continued, adding, "We are very sorry all this had to happen."